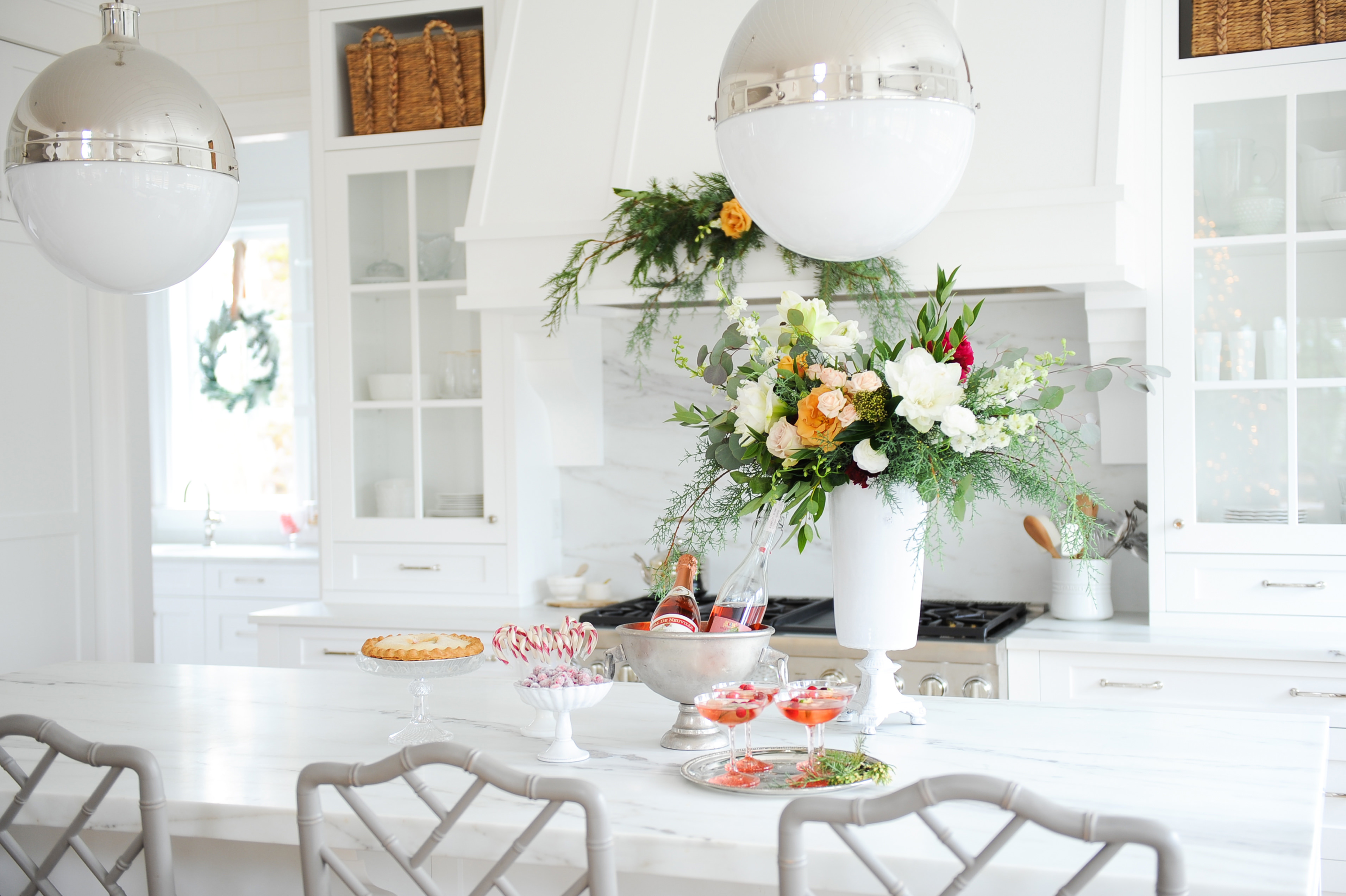 Merriest Christmas everyone! We are only a few short days away from one of the most anticipated days of the year! This year has gone by so incredibly fast, not only for me but for our family too! So much has changed in one short year! From moving into our new home to welcoming sweet Lillya to our family, this year had been one of the busiest, but one of my favourites! 2016, you've been so good to us!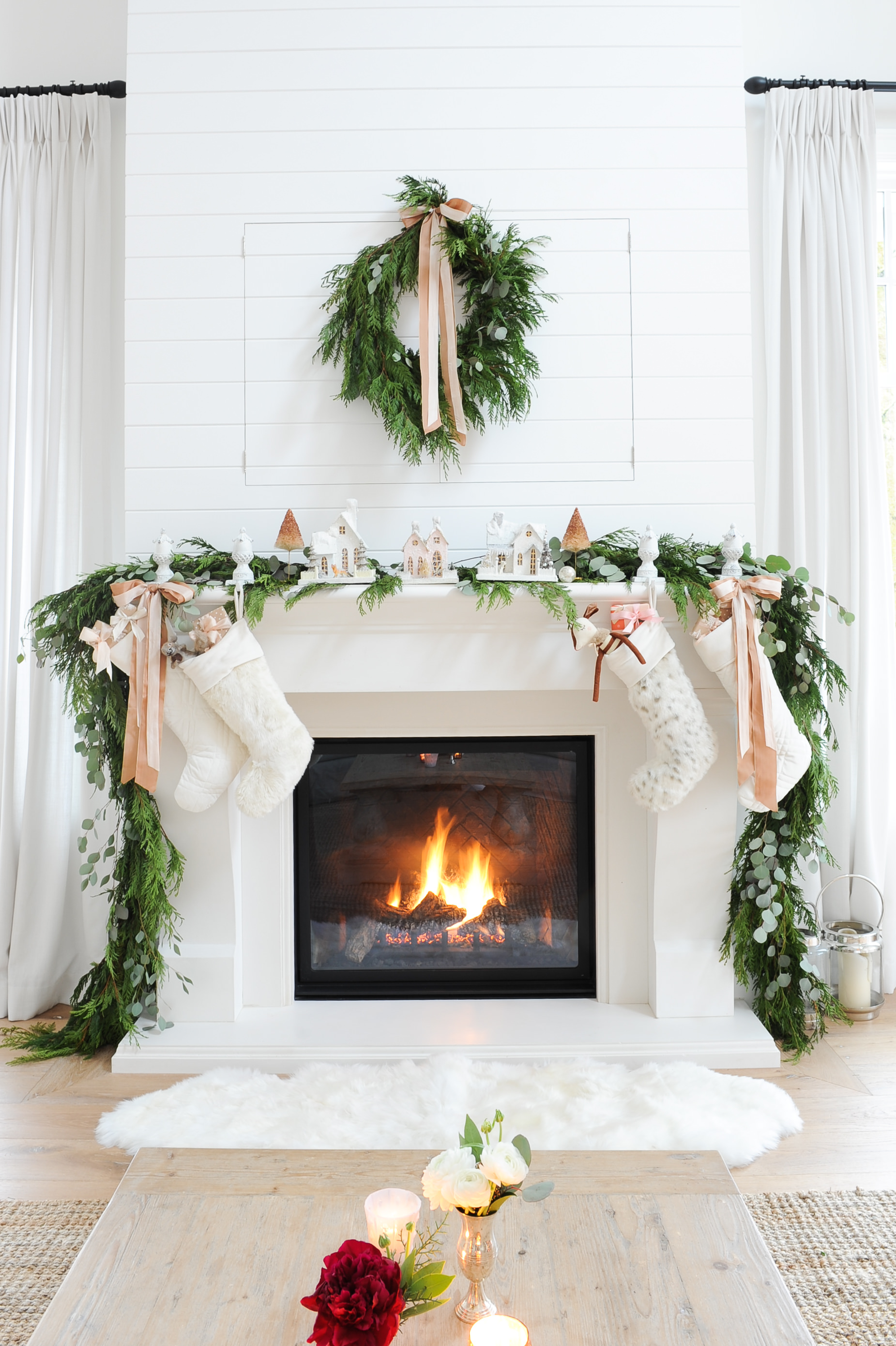 Exactly one year ago today we photographed our home for Christmas. Because we submitted these photos to Style at Home magazine, we had to keep them a bit of a secret! I hope you had a chance to pick up the November issue and have a look for yourself. If not, don't you worry –I'm sharing all my favourite photos with you all today!
This white flocked Christmas tree was really one of a kind! I love how majestic it looked in our living room. I loved cuddling baby Lillya and just looking up at its twinkling lights. A unicorn toy, wrapped gifts with touches of pink ribbons, delicate florals all added to the theme. I adored every bit of it.
"Hello Lovely!" And a pink Christmas it was indeed! Since we had just welcomed our new sweet baby girl on the 9th of December, I thought it was so fitting to do a pink theme for Christmas. Tons of blush pinks and coppers, it was even more beautiful than I planned! It was such a special theme. Sentimental moments made into memories that I will truly cherish forever.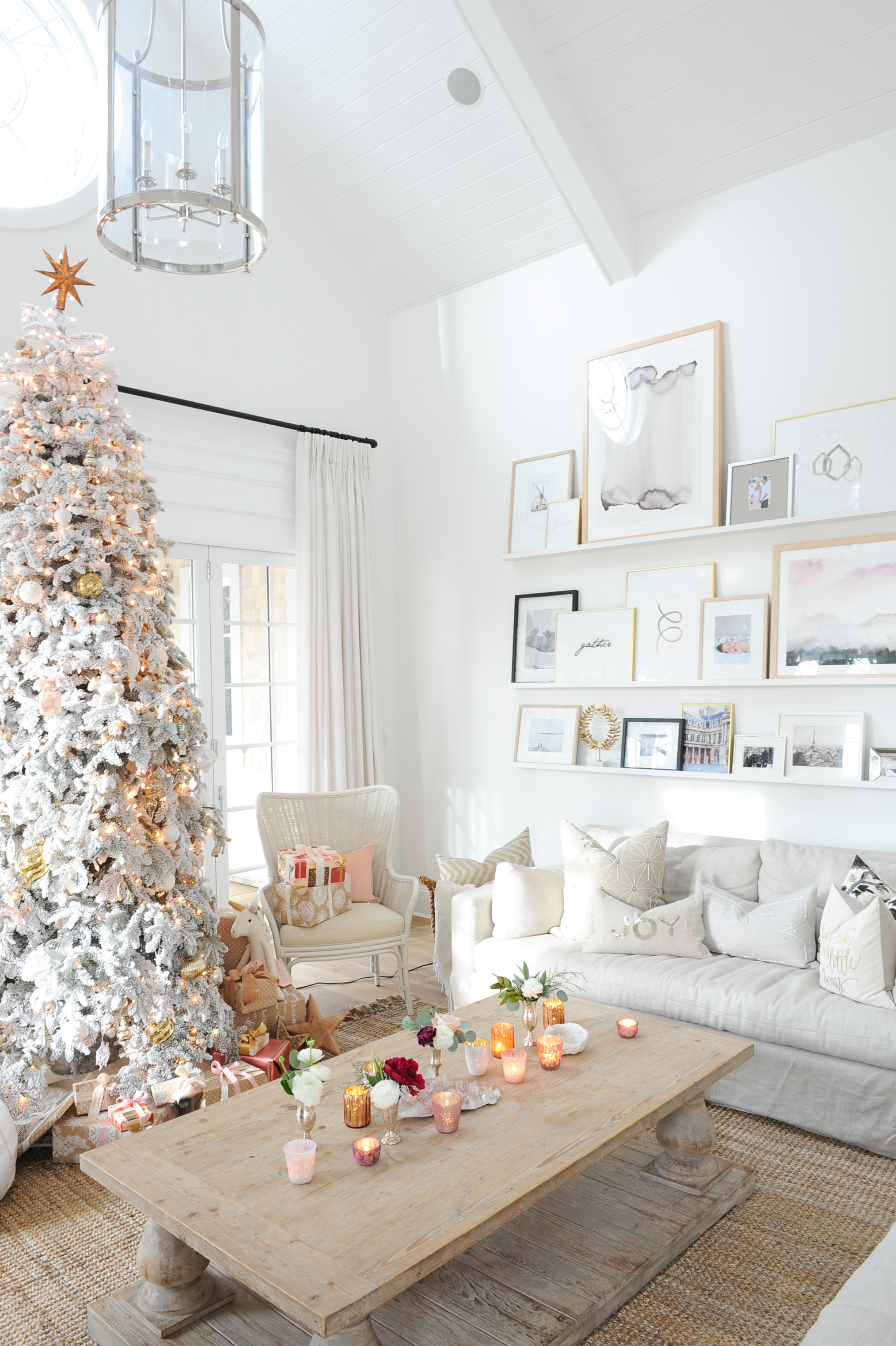 I kept the Christmas decor quite simple in the kitchen, but it made such an impact! Love the pops of greens and, again, touches of pinks. Simple and clean, like they say: "Less is More."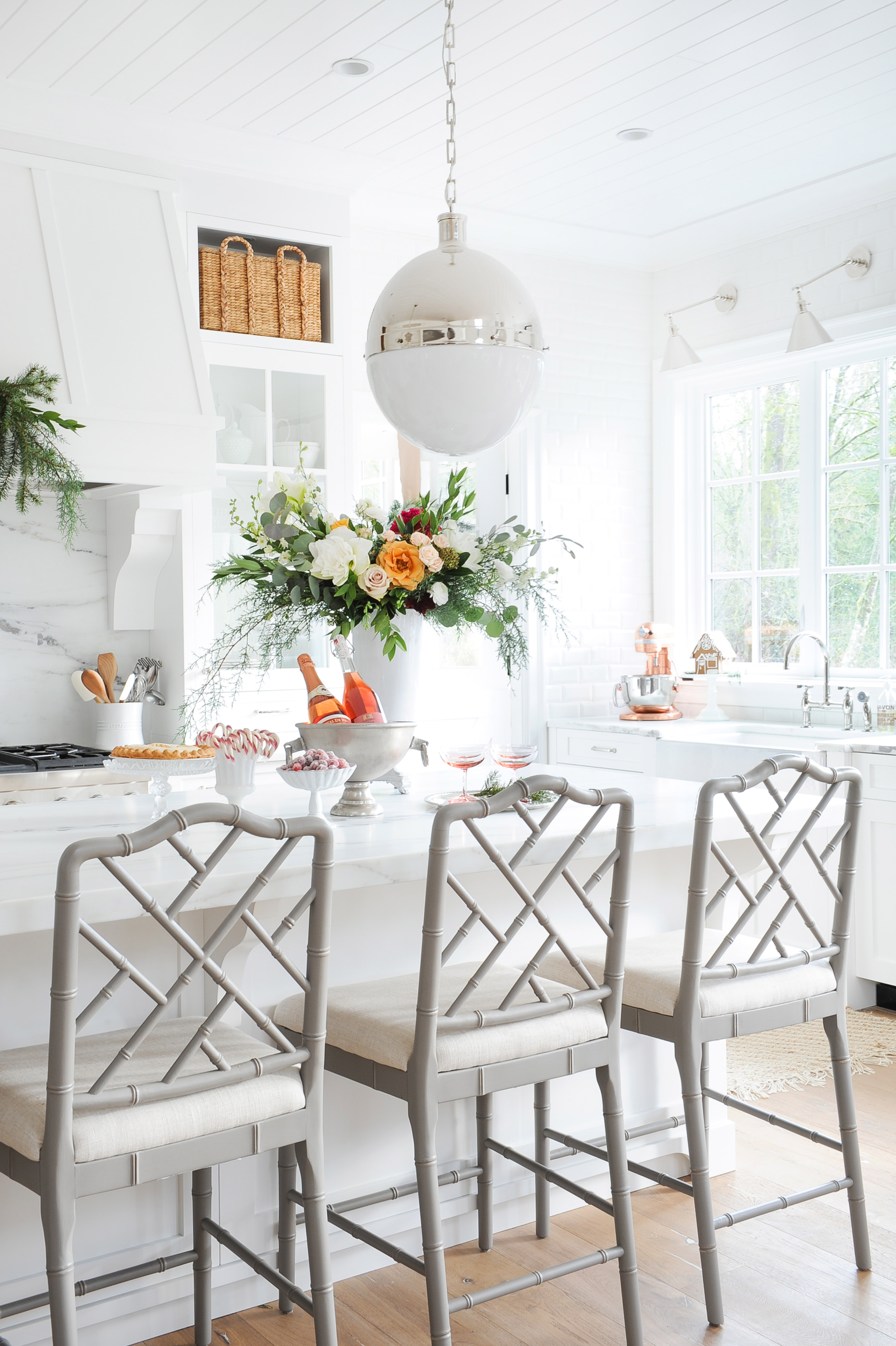 A signature cocktail is always fun during the holidays. This one is super simple: Sparkling rosé with sugared cranberries and frozen rose ice cubes. Such a beautiful way to welcome your guests!
Adding touches of decor, even if it's natural greenery from outside, brings in a gorgeous small and extra-festive touch.
I love having this pass through connecting our kitchen and dining room. Perfect for entertaining, adding space for desserts and drinks. Of course, this little space needed to be decorated too. A wreath hanging on the window is one of my favourite simple looks.
The mudroom and laundry room is one of my spaces in our home- mostly because of these cement tile floor!  We go through this room multiple times a day, so adding a Christmas touch was a must. Simple little things, like an added wreath (again), are my favourite ways to decorate for Christmas. From your living room to the kitchen, to your office space and even into your mudroom – there is always room for Christmas decor! Hope these photos inspire your last-minute Christmas decor!
DETAILS
Windows & Doors:  Westeck Windows & Doors
Paint: Behr Walls: Polar Bear, Finishings: Ultra Pure White 
Kitchen Design: My House Design Build 
Cabinets: Nickels Cabinets
Hardwood Floors: Divine Flooring
Marble Counters: Margranite Industry Ltd.
Counter Fabrication: SSC Countertops Ltd.
Tile: World Mosaic Tile
Cement Tile (Mudroom): Cement Tile Shop
Farmhouse Sinks: Kohler
Florals & Garlands: Floralista
Ornaments: The Cross Design
Christmas Houses: The Cross Design
Silk and Velvet Ribbons
Photographed by Tracey Ayton.
Shop The Post