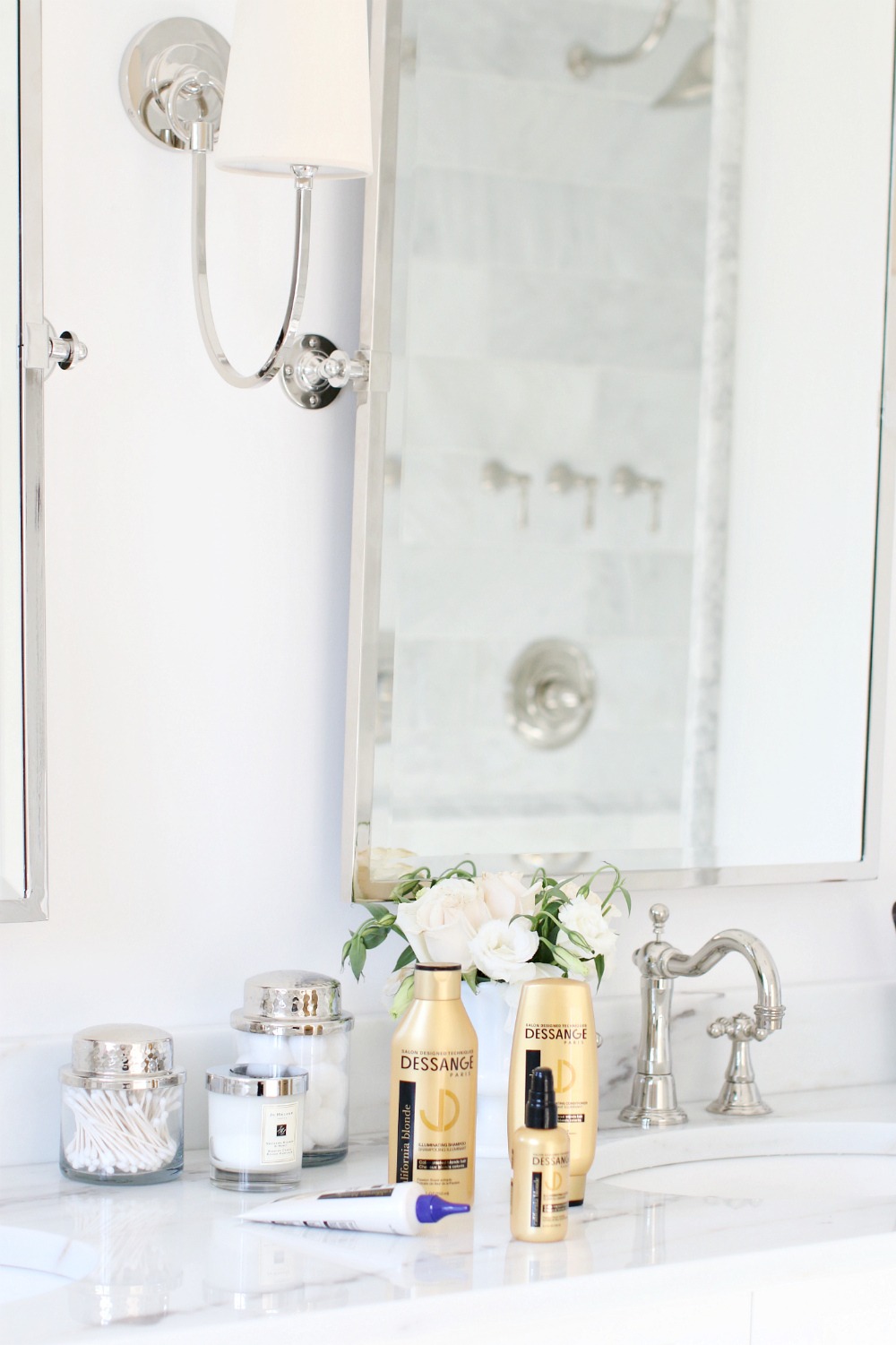 If you follow me on Instagram, you might have seen that  I took part in a 30 day challenge with Dessange hair products. They have products range for all hair types but their blonde hair care collection was something I was super interested in.  Simply because I was all for avoiding that brassy colouring weeks after my fresh blonde colour after leaving the salon.
If you're a blonde like me, you might have heard all the rage about blue pigment shampoo that prevents your blonde turning that brassy color. The Dessange hair line is complete with Illuminating Shampoo and Conditioner AND a Brass Colour Correcting Cream with blue pigments. I was ready to try it out!
Honestly, I was presently surprised with the entire line. Not only did my hair colour maintain it's gorgeous fresh golden blonde colour, but my hair seriously felt silky smooth, soft, light weight and super healthy! Plus, I received a ton of compliments about how health my hair looked too! For only using these products for a month's time (twice a week),  I thought that was quite impressive. I also used the Illuminating Elixir after I was done blow drying and styling my hair, especially focusing on my ends to avoid any dryness and that unwanted breakage.
I've tried to capture the results in the above photos. As you can see the original colour of my salon coloured hair has defiantly been maintained! I often hesitate to try new products and change my hair care routine, however I'm thrilled with the results, I will be definitely continuing to use them. Especially the Brass Colour Correcting Cream, which I used with every wash, about a nickel size amount, leaving in for no longer then five minutes.
If you're a blonde and are interested to try this entire hair collection, I think you'll be very impressed with this drug store brand, available at Shopper's Drug Mart, check on their website if Dessange's products are available near you" with this link. Not only are the results awesome, so is the price point! I guarantee you'll hair colour will be stretched till your next colouring appointment.
Dessange believe there is nothing more beautiful than salon hair color and wants you to have it everyday with luxurious professional products to extend your salon hair color at-home for that je ne sais quoi each day. The great news is that their products are now available in Canada! AND I'm giving you a chance to  win a Dessange Hair Ritual hair pack valued at $55 with the contest box below.