It's a Coastal Cowgirl Thing
Howdy there Coastal Cowgirl! This new trend is one that perhaps you already adopted without even knowing it! (Move over Coastal Grandmother!) An effortless style that combines elements of classic western style with laid-back coastal charm. It features loose neutral and white linens, cow boots, relaxed straw cowboy hats, flowy dresses, denim skirts with fun hemlines, and gold statement jewelry. This trend is all about achieving a relaxed style with a touch of whimsy, blending the beach and the Wild West to create a unique and playful look. The overall vibe is relaxed, charming, and chic, perfect for embracing your inner cowgirl while staying true to your coastal roots.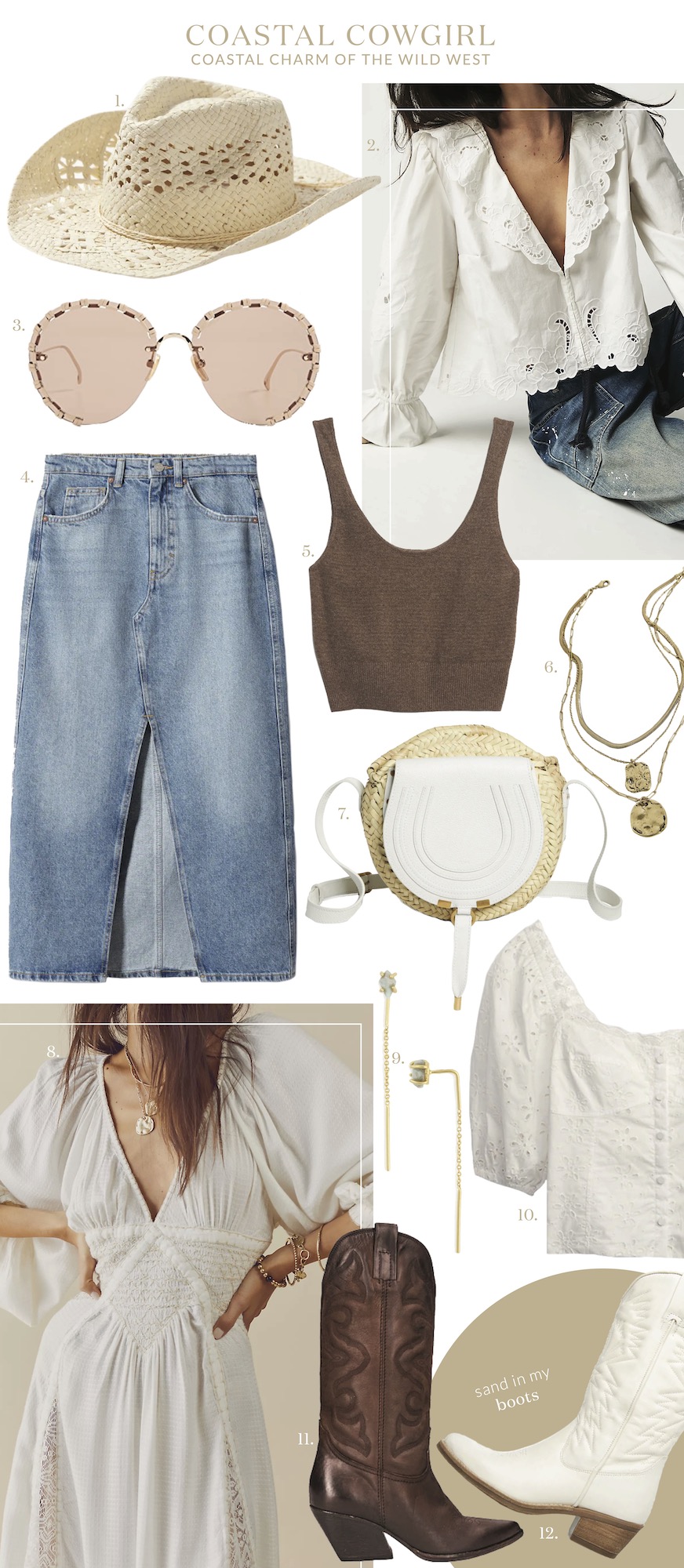 To achieve this effortless yet elevated look, start with loose neutral and white linens. These breezy fabrics are perfect for soaking up the sun and give off a relaxed and carefree vibe. Think flowy maxi dresses or wide-legged linen pants paired with a simple tank top.
And of course the cowboy boots – the quintessential western accessory! The boots not only add a touch of western charm to any outfit, but a great pair will last you for years to come. Opt for a distressed leather finish for that perfect worn-in look. To top off your outfit, reach for a relaxed straw cowboy hat. Try pairing it with a flowey sundress for the ultimate laid-back coastal cowgirl look. Go for flowy silhouettes in soft fabrics like cotton or linen. Add some charm to your outfit with a leather belt or a statement piece of jewelry.
A denim skirt is a must-have item in any coastal cowgirl's wardrobe. Choose one with a fun hemline, such as a frayed edge or a ruffled hem, for a playful twist on a classic piece. You can also try a longer length for a more tailored look. Pair your denim skirt with a flowy blouse or a simple tee for an effortless yet stylish outfit.
All you need to remember is that a coastal cowgirl is simply blending western style with a laid-back coastal charm. Incorporate loose neutral and white linens, cow boots, relaxed straw cowboy hats, flowy dresses, and charming leather accessories into your wardrobe for an elevated yet playful look. Saddle up and embrace the coastal cowgirl trend – it's time to have some fun and let your style run wild.
| 1 | 2 | 3 | 4 | 5 | 6 | 7 | 8 | 9 | 10 | 11 | 12
More pieces below!
Shop The Post