There is an undeniable allure to a summer in Europe. From the glamorous French Riviera to the idyllic Tuscan countryside, endless cities that offer a wealth of inspiration that captivates the hearts from around the world. The undeniable culture, mouthwatering cuisine, and impeccable fashion sense creates an irresistible essence of a European summer. While jetting off on a Euro trip might not be in everyone's reach, there are still plenty of ways to infuse your home and wardrobe with the vibrant energy and effortlessly chic style that defines a European summer.

So what are some must haves for 'Embracing European Summer Vibes'? Embrace a flirty shorter dress to show off that summer tan. Top it off with a stylish straw hat, double buckle sandals, and statement sunglasses for an added touch of European charm. Complete the look with a bold lip color that exudes confidence and allure. These essential pieces effortlessly capture the essence of European fashion, allowing you to radiate a chic and carefree style, whether you're exploring charming villages or soaking up the sun along the coast. Channel the European summer vibes with these must-have items that are perfect for a stylish and memorable season.
Don't forget about alfresco entertaining! Effortless outdoor dinners under the stars with plenty of delicious food and good company. Our favourite LED Poldina table lamps to elevate your tablescape, with it's warm light to carry your conversations into the night! Fun dinner and flatware to set a tasteful appeal, Bon appetit mon amis!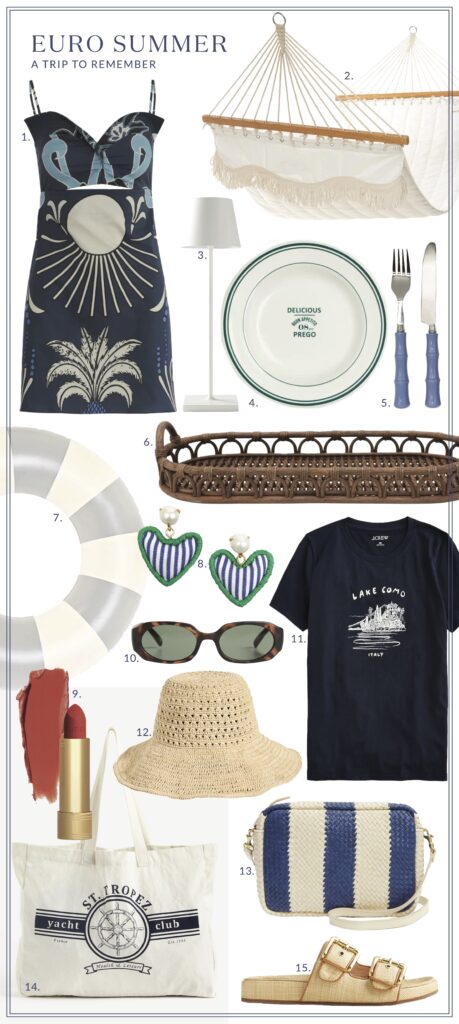 | 1 | 2 | 3 | 4 | 5 | 6 | 7 | 8 | 9 | 10 | 11 | 12 | 13 | 14 | 15 |