Grapefruit and Peach Cream Popsicles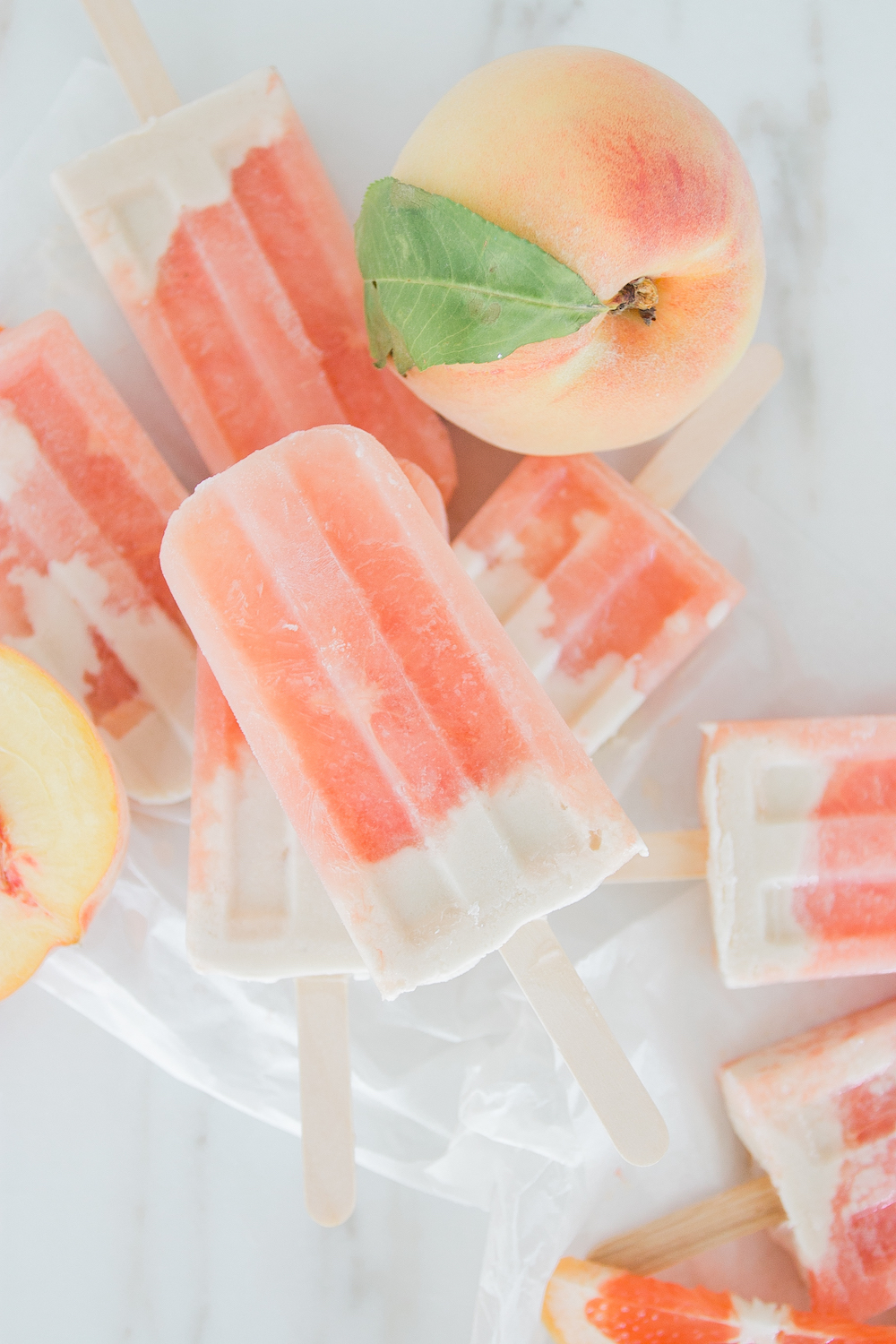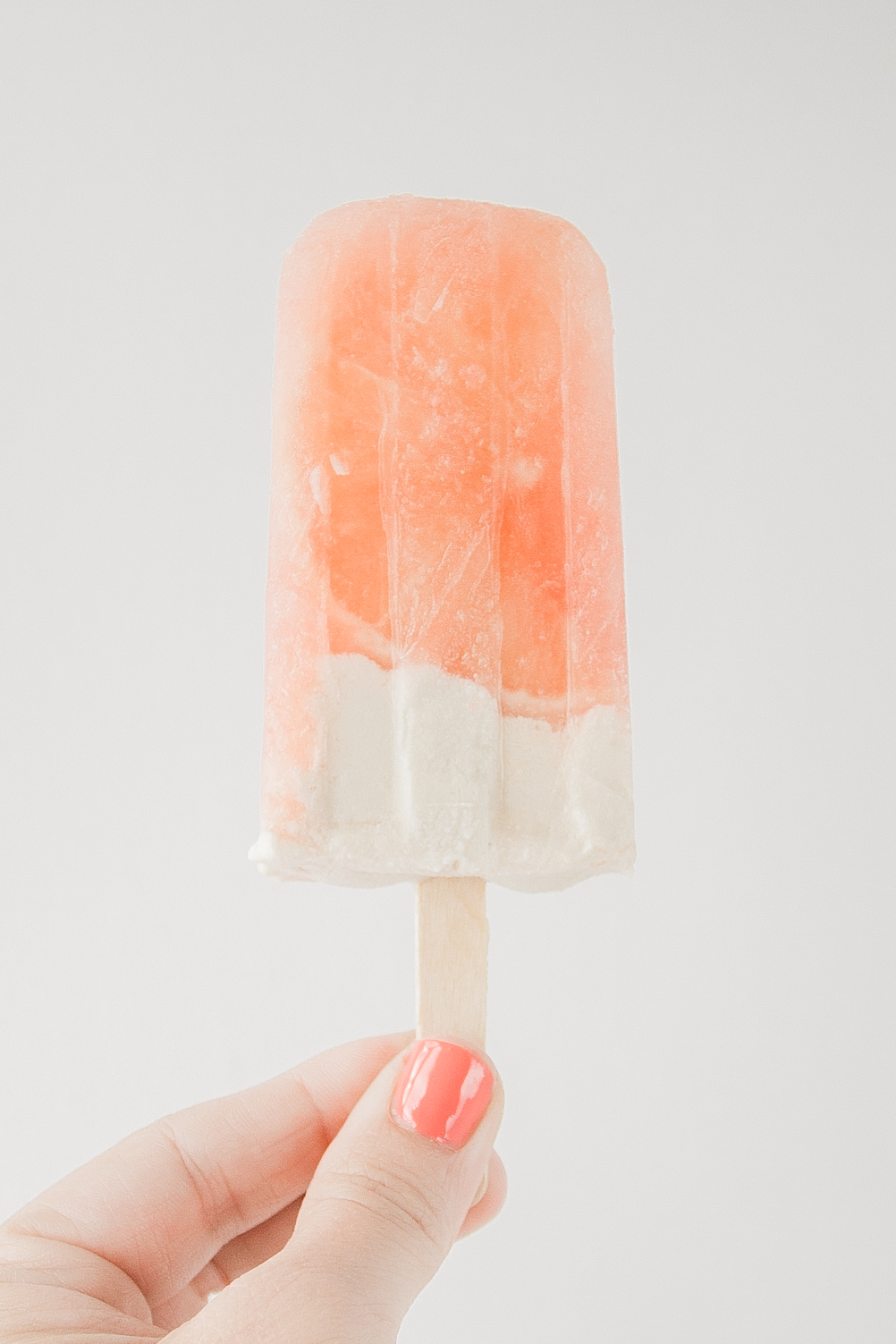 Since I was a little girl, one of my favourite summer time treats has been delicious homemade popsicles!  Not only are they fun and easy to make with the kids, they always look super cute when they are finished and there are so many creative colour combinations you can make!
I absolutely loved making these grapefruit and peach cream popsicles, especially because I just adore the soft pink and peachy hue!  These are great for a casual, after-dinner treat to enjoy in some perfect summer weather, but would also be an awesome addition for a party as you can match the popsicles to whichever colour palette you're using! Hope you enjoy these homemade grapefruit and peach cream popsicles as much as I did!
Grapefruit Cream Popsicles
Makes 10 popsicles
Prep time: 15 minutes
Inactive time: Overnight
Cook time: 5 minutes
Ingredients
Grapefruit Puree:
1 cup of segmented grapefruit (I used about 4 large grapefruits and squeezed out all the extra juice)
½ cup of simple syrup (See recipe below. Feel free to use a bit less! Or another sweetener of your choice)
Coconut Cashew Cream:
1 cup of raw cashews
Filtered water for soaking the cashews
2/3 cup of filtered water
2 Tsp vanilla extract (you could use the seeds from a vanilla bean as well)
½ cup of coconut cream
3 Tbsp of simple syrup, agave or maple syrup. (You can also lower this amount if you would like it less sweet.)
Directions
Cover the cashews with filtered water and let soak overnight.
Drain the cashews and place them in a blender along with the 2/3 cup of filtered water, vanilla and simple syrup. Blend on high for about 2–3 minutes to get it nice and smooth. Add in the coconut cream. (Tip: I leave my can in the fridge and let the water separate from the cream. I scoop out the cream and use the water in smoothies!) Once it is all blended, place in a container that will be easy to pour from.
Rinse the blender well.
Cut the grapefruit into segments and place in the blender along with the simple syrup. Blend on high for about 2 minutes until nice and pureed.
I like to add some sliced grapefruit into the popsicles to make the pop! Simply cut off the skin and rind off the grapefruit, then slice them into rounds and then in half.
Arrange some slices into the popsicle molds and add the grapefruit puree about half way up. Top with the cashew coconut cream. Pour gently so that you can create layers.
If you are using the mold similar to the one we used then you can place the popsicle sticks in right away.
Freeze for about 6–8 hours.
Dip the mold in hot water to help release the popsicles.
Simple Syrup
1 cup of cane sugar
1 cup of water
Boil until the sugar dissolves. Let the mixture cool and keep it in the refrigerate in a sealed container for up to two weeks.
Peaches and Cream Variation
Ingredients
Follow the same cashew coconut cream recipe as above.
Substitute the grapefruit for 2 cups of white peaches or whatever fresh peaches you have available.
1/4–1/2 cup of simple syrup (Tastes after adding  ¼ cup and see if the sweetness is enough for you.)
Directions
Wash up the peaches, cut them in half, and remove the pit. Leaving the skin on helps to make the pretty final colour.
Cut the peaches into smaller pieces and place in the blender with the simple syrup. Blend on high for about 2 minutes until you get a nice smooth puree. (We strained the mixture next but feel free to omit this step.)  Add in the coconut cashew cream and mix well.
Pour the mixture into the popsicle maker and freeze.
Play around with the fruit to find a popsicle you love. Try cherries, oranges, or strawberries. Really anything would work well:  Just make a puree with fruit and some simple syrup and add the coconut cashew cream. Enjoy!!!
Recipe by Erin Girard, MH Food Editor. 
-SHOP THE POST-