Tips for making an amazing Acai Bowl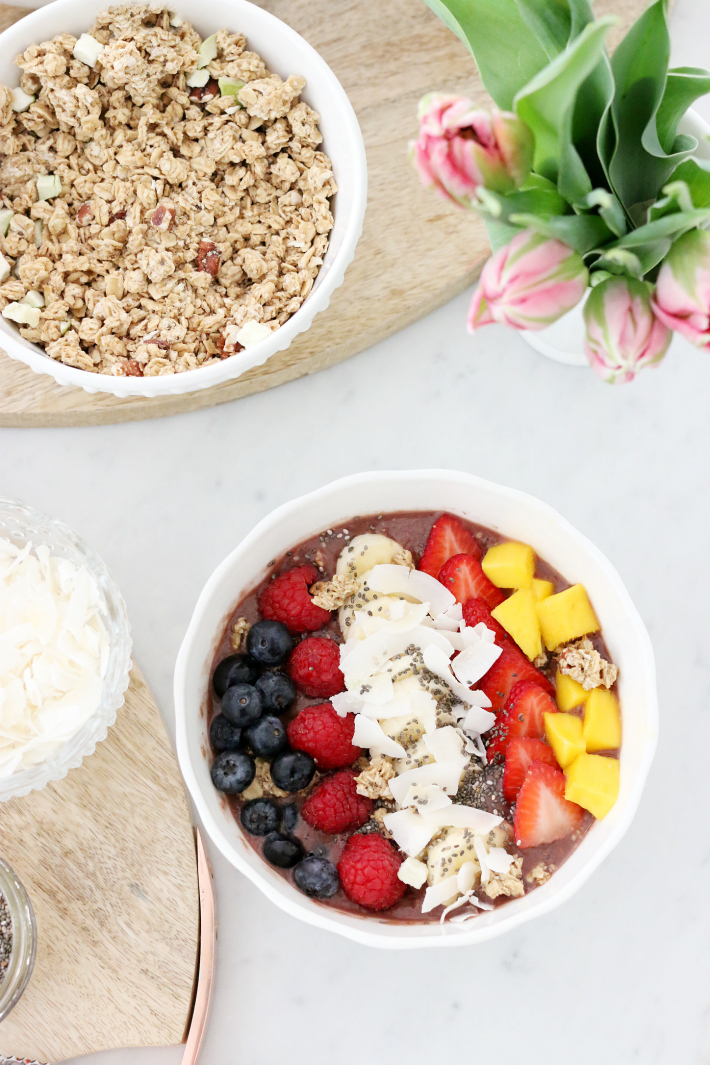 Happy Monday everyone! Today I wanted to share my new favourite breakfast and teach you the secret to making a delicious Acai Bowl. It seems like everyone is instagam-ing their colourful acai bowls, either made at home or at their local favourite healthy food stop! Acai berries are packed with antioxidants and are incredibly awesome to add to your diet. Why not start with breakfast? There is a little bit of an art to making them (so I've discovered), plus a few key ingredients that you need to know.
First you need to get your hands on some acai concentrate, I like to used the Sambazon Acai Packs. They make the process extra easy! The next steps are pretty straight forward below.
1. Blend acai packet, 1 cup almond mik, 1 banana, 1 cup frozen strawberries, 1/4 chia seeds. (Read why I like to use chia seeds here). Add more or less of the almond milk, depending on how thick you want your smoothie part of the bowl to be. 
2. Prepare and cut up your favourite fruit. I'm a big fan of strawberries, raspberries, blue berries, mango, banana and even a kiwi!
3. Pour your acai blend into a bow, sprinkle a generous amount of your favourite gluten free granola and "artistically" display fruit on top. (If you please)
4. To finish off, sprinkle some coconut shavings and chia seeds. Adding some honey drizzle is delicious too!
Sources [thefeedproducts style='four']
Blendtec Blender (seriously the best), I've heard Vitamix is amazing too.
Wooden Boards, similar here & here.
Copper Measuring Spoons, White Bowls, White Pitcher, Acrylic Pitcher, White Cup