Lillya's Nursery & Giveaway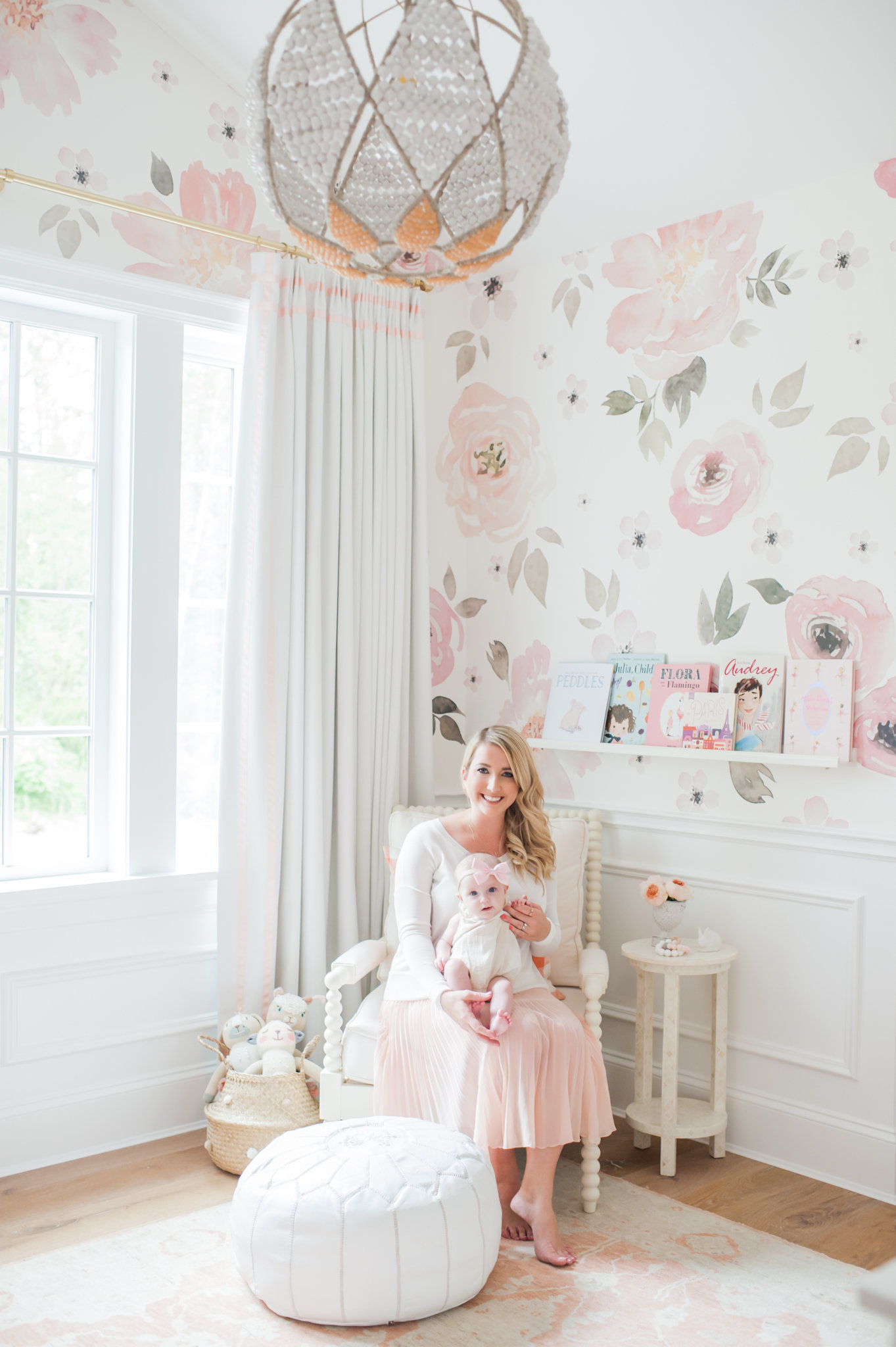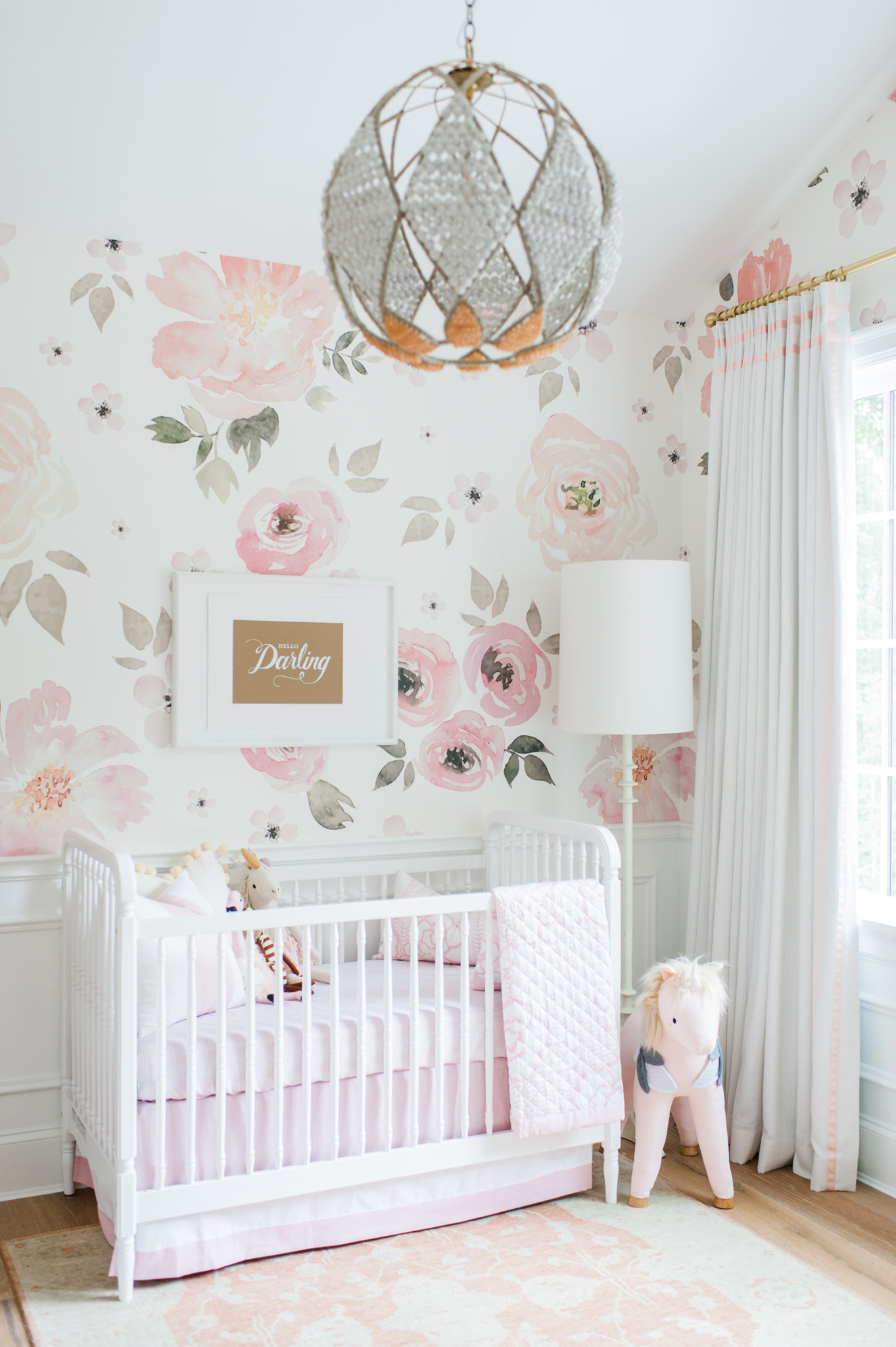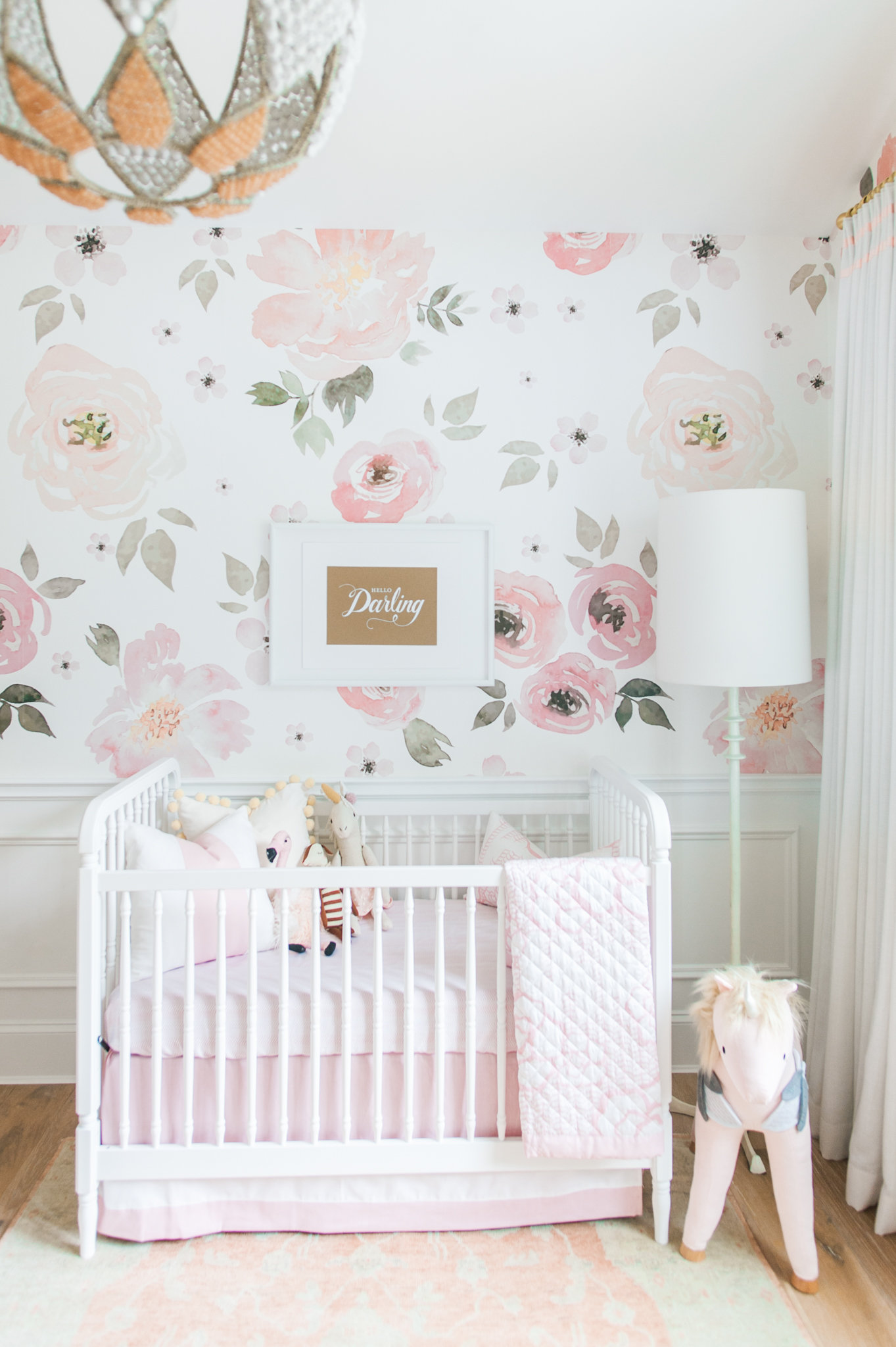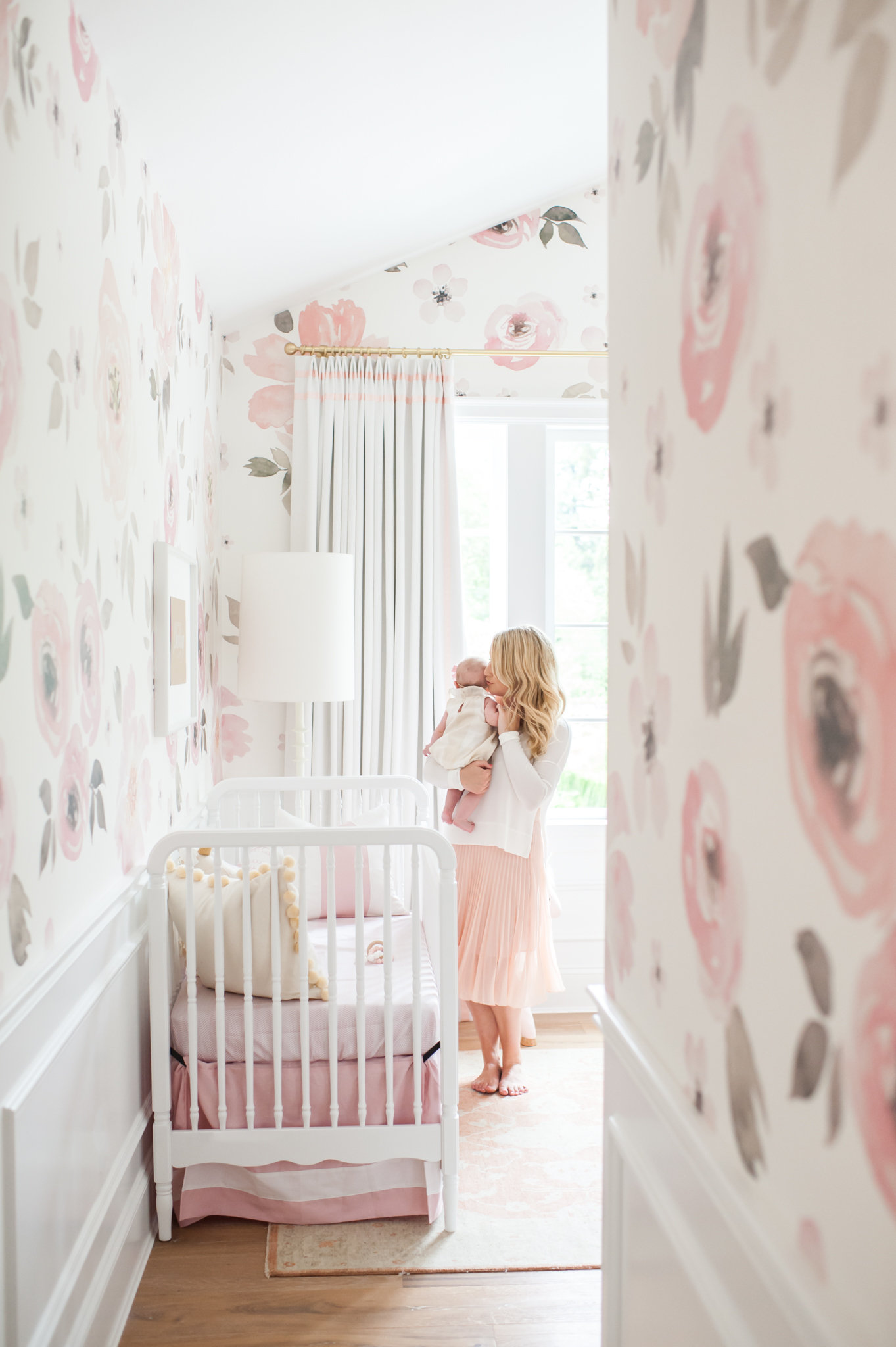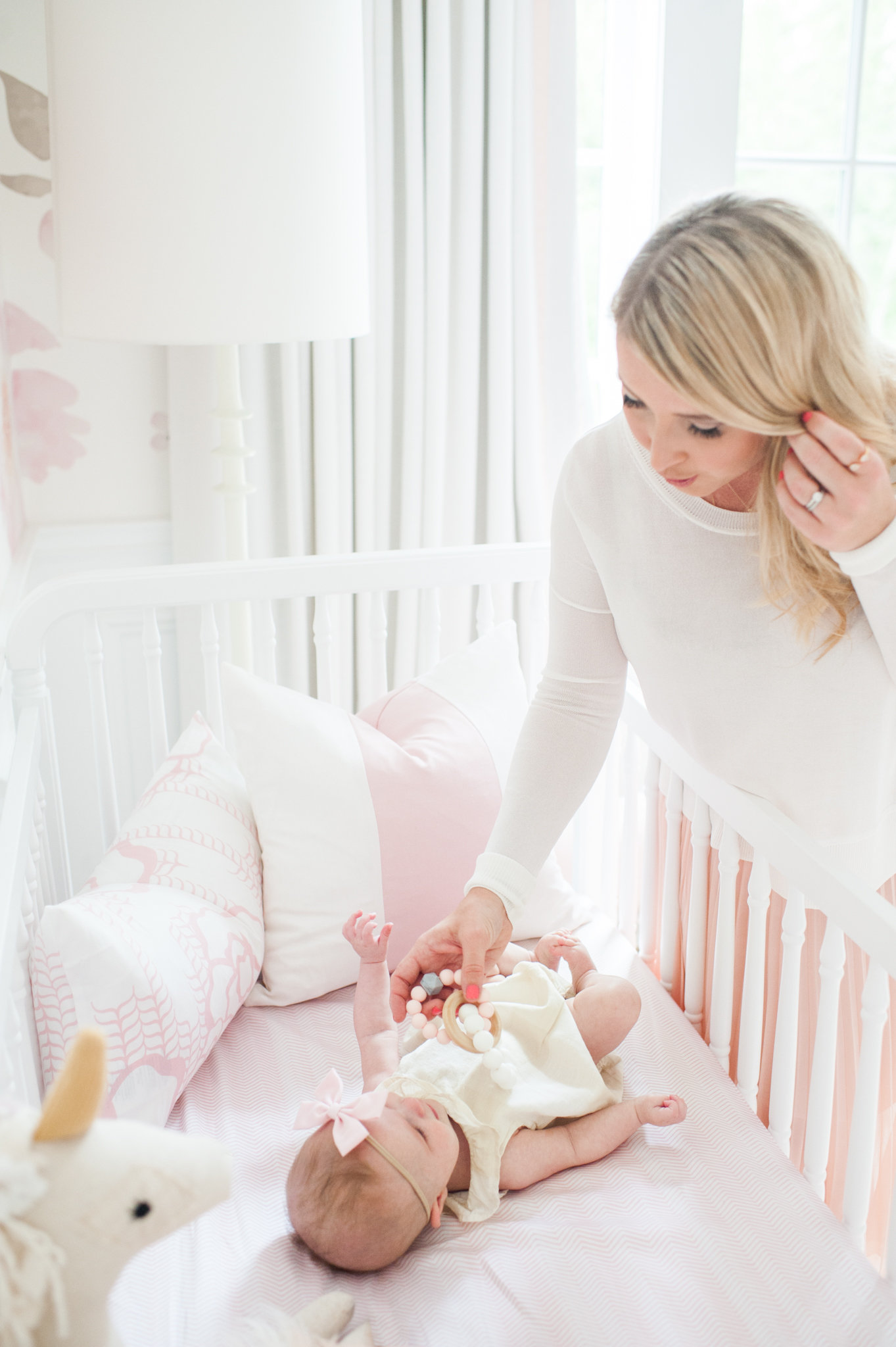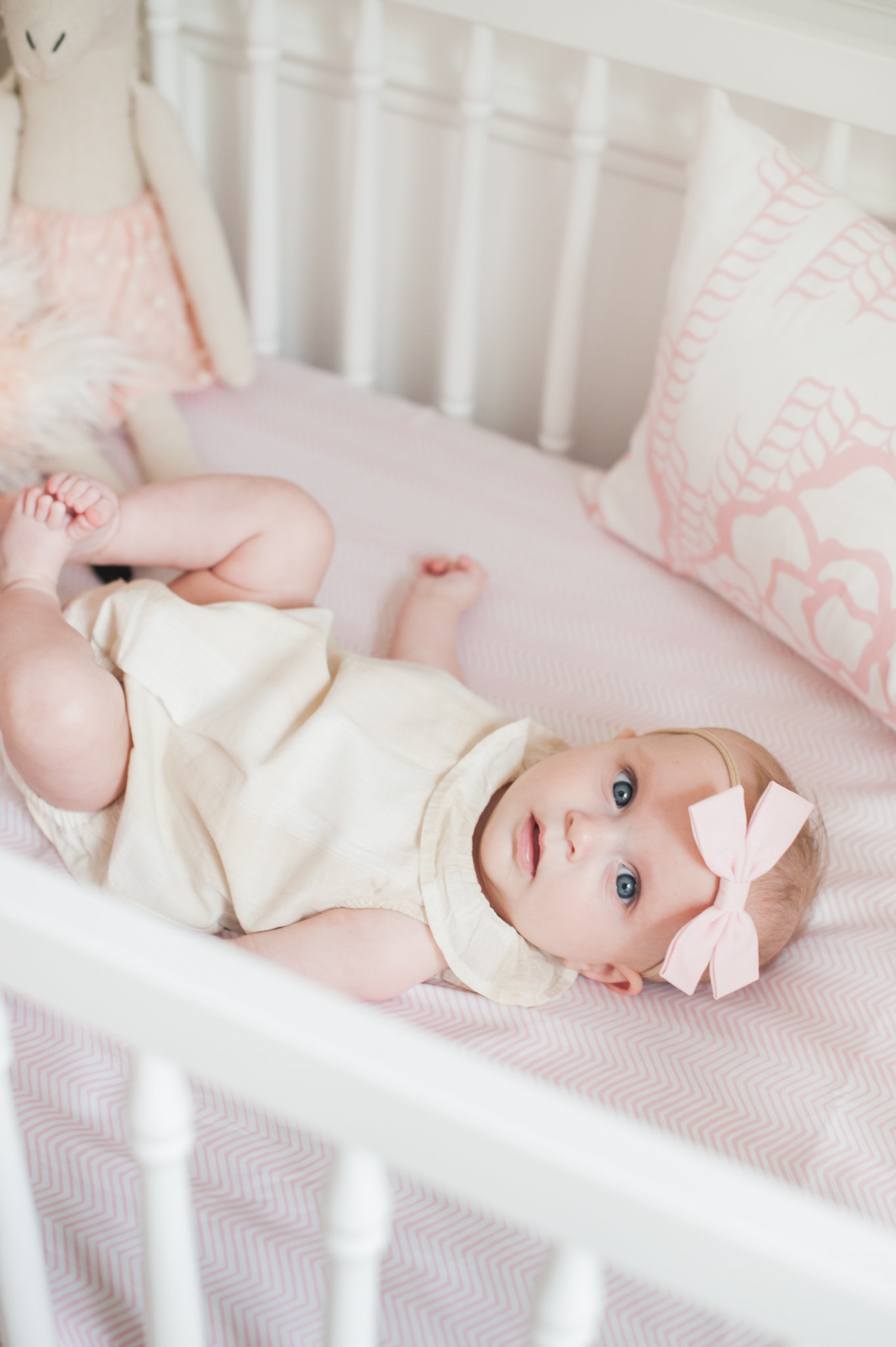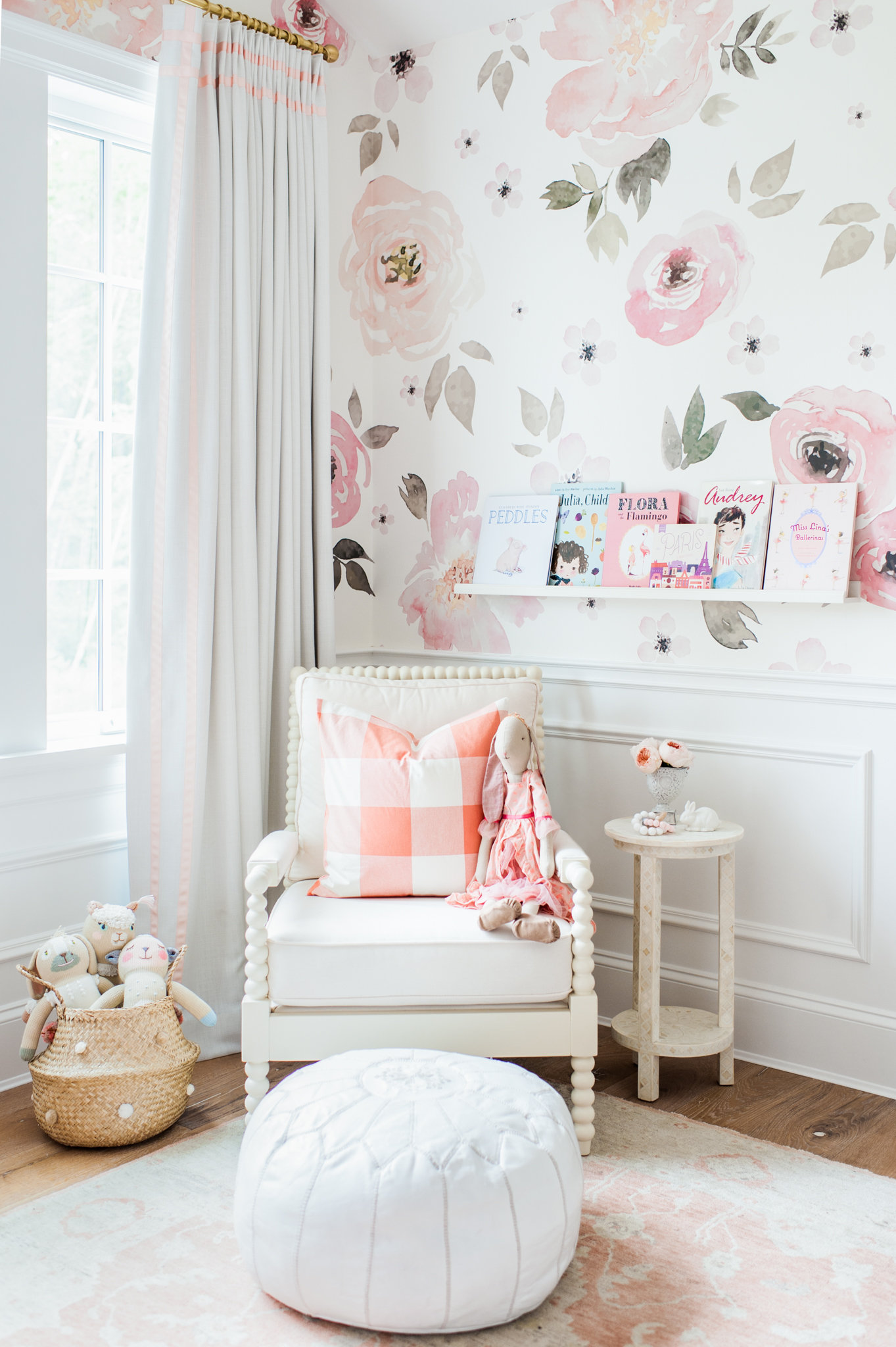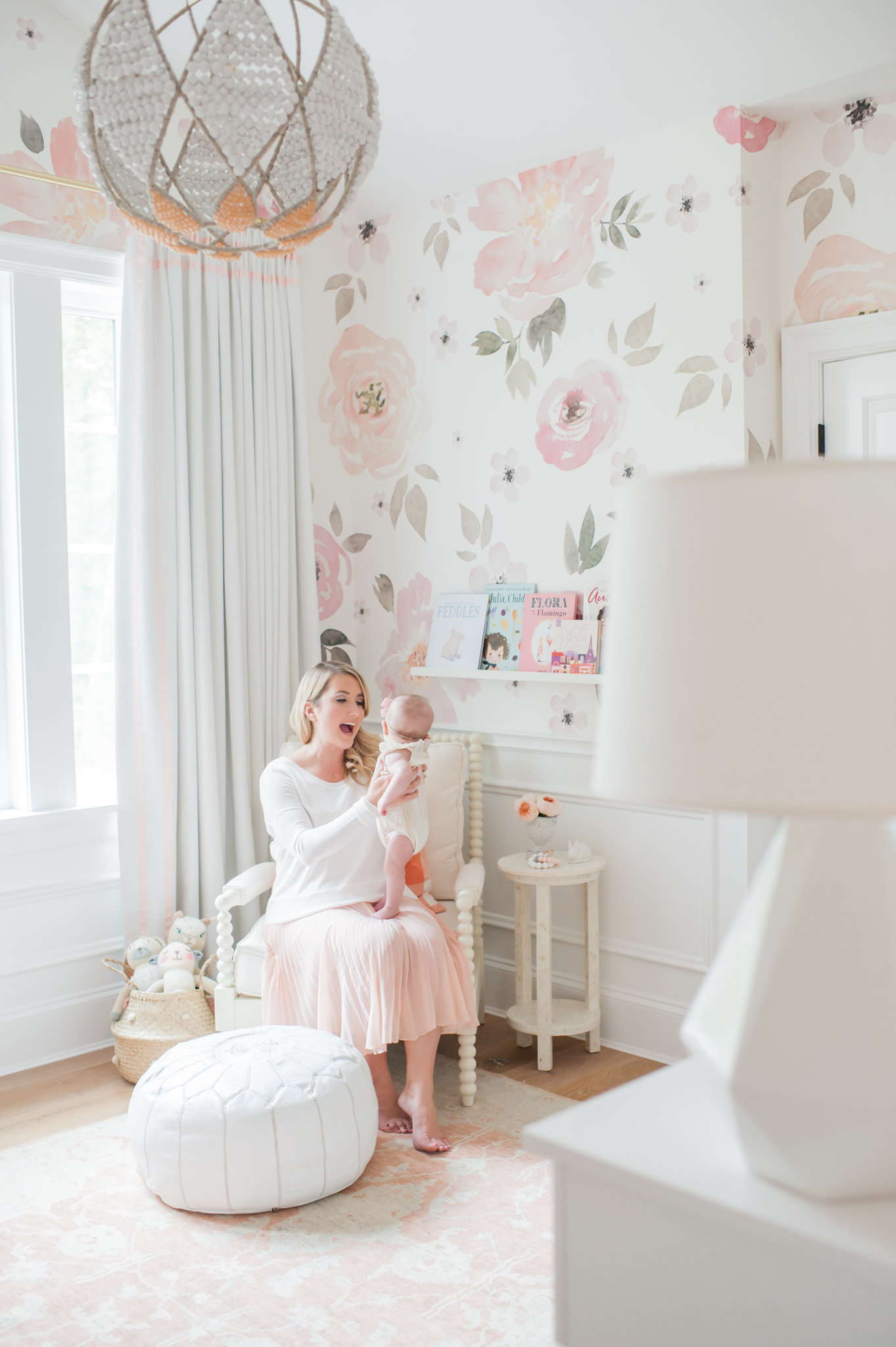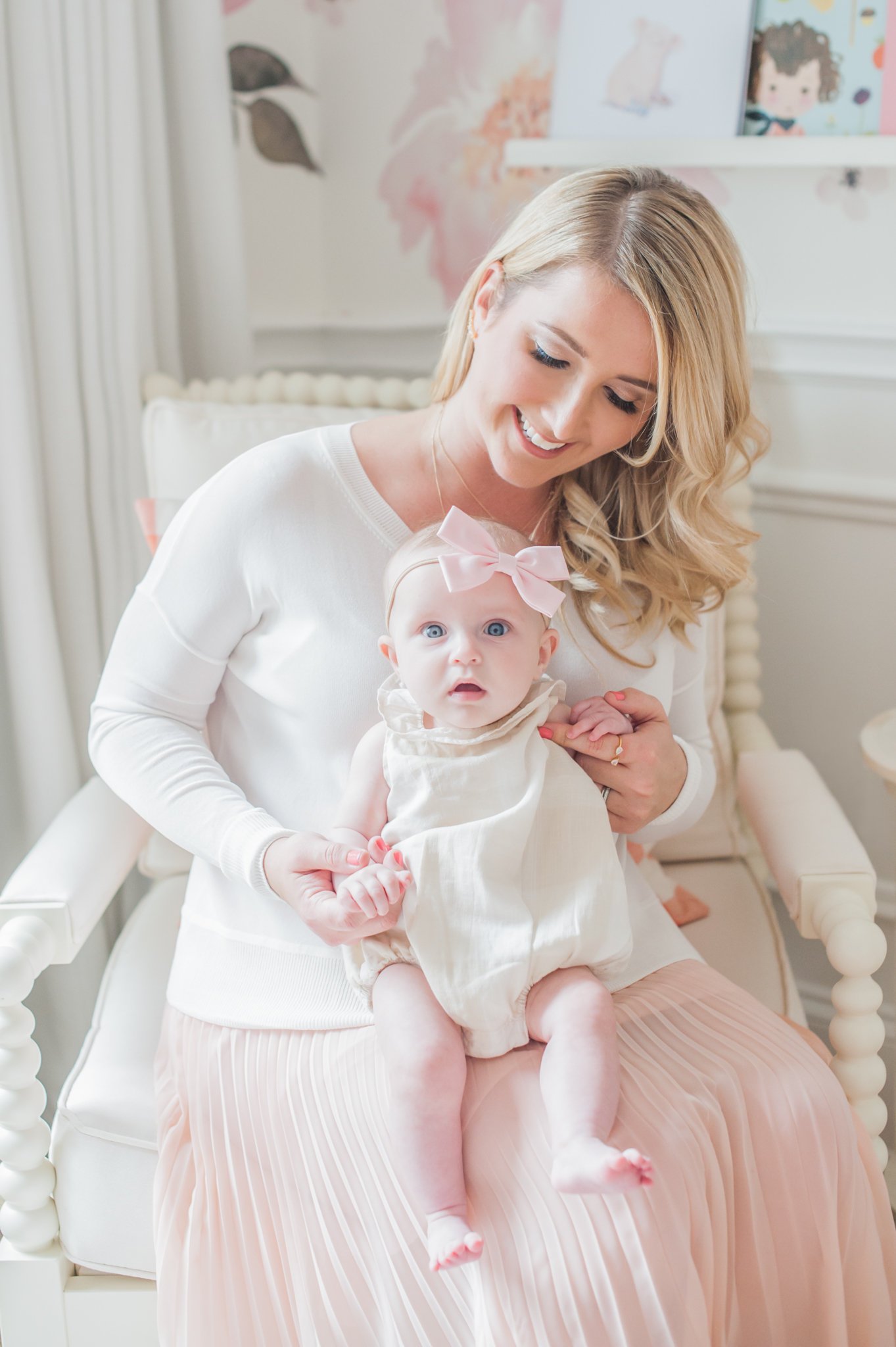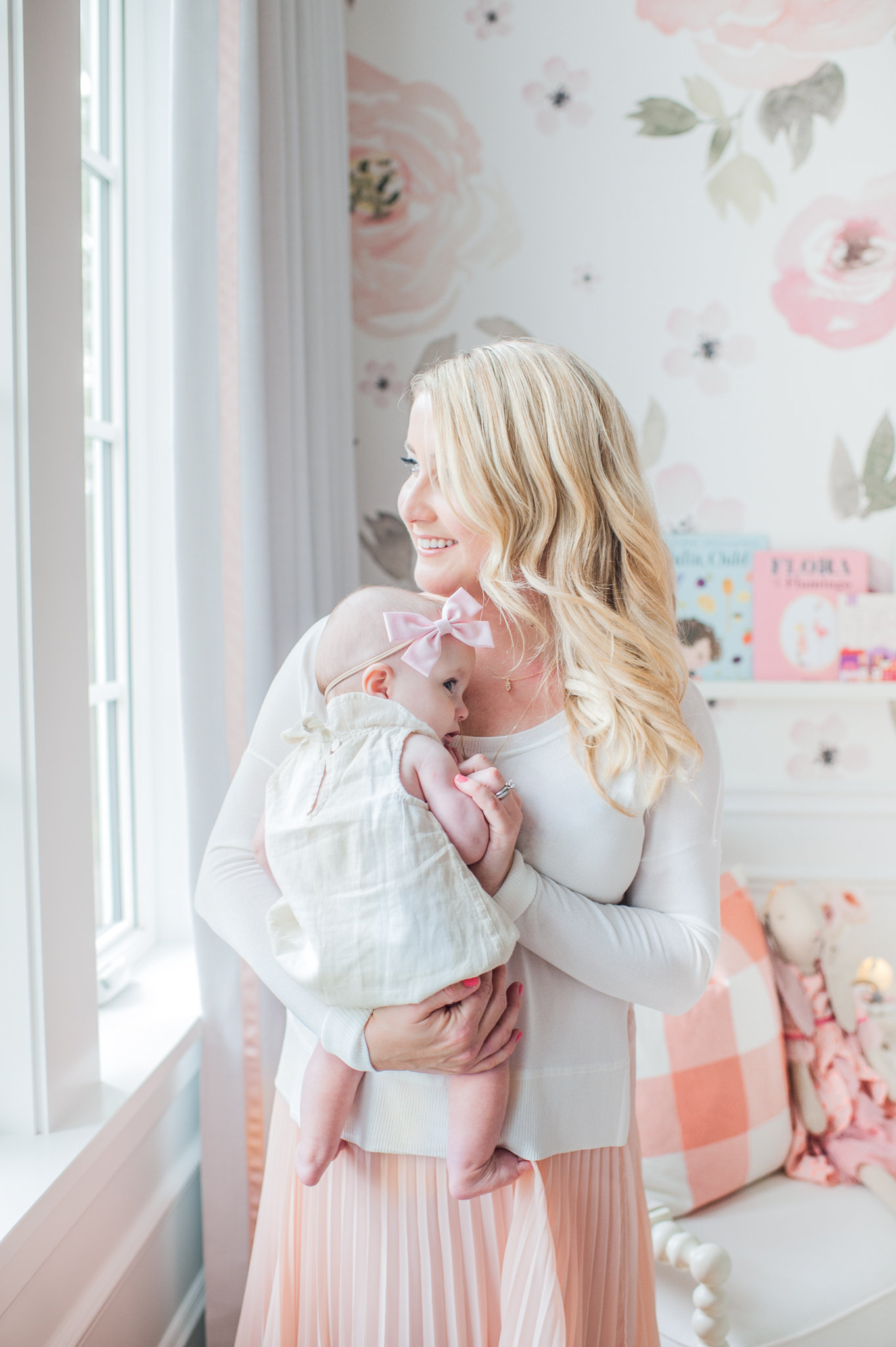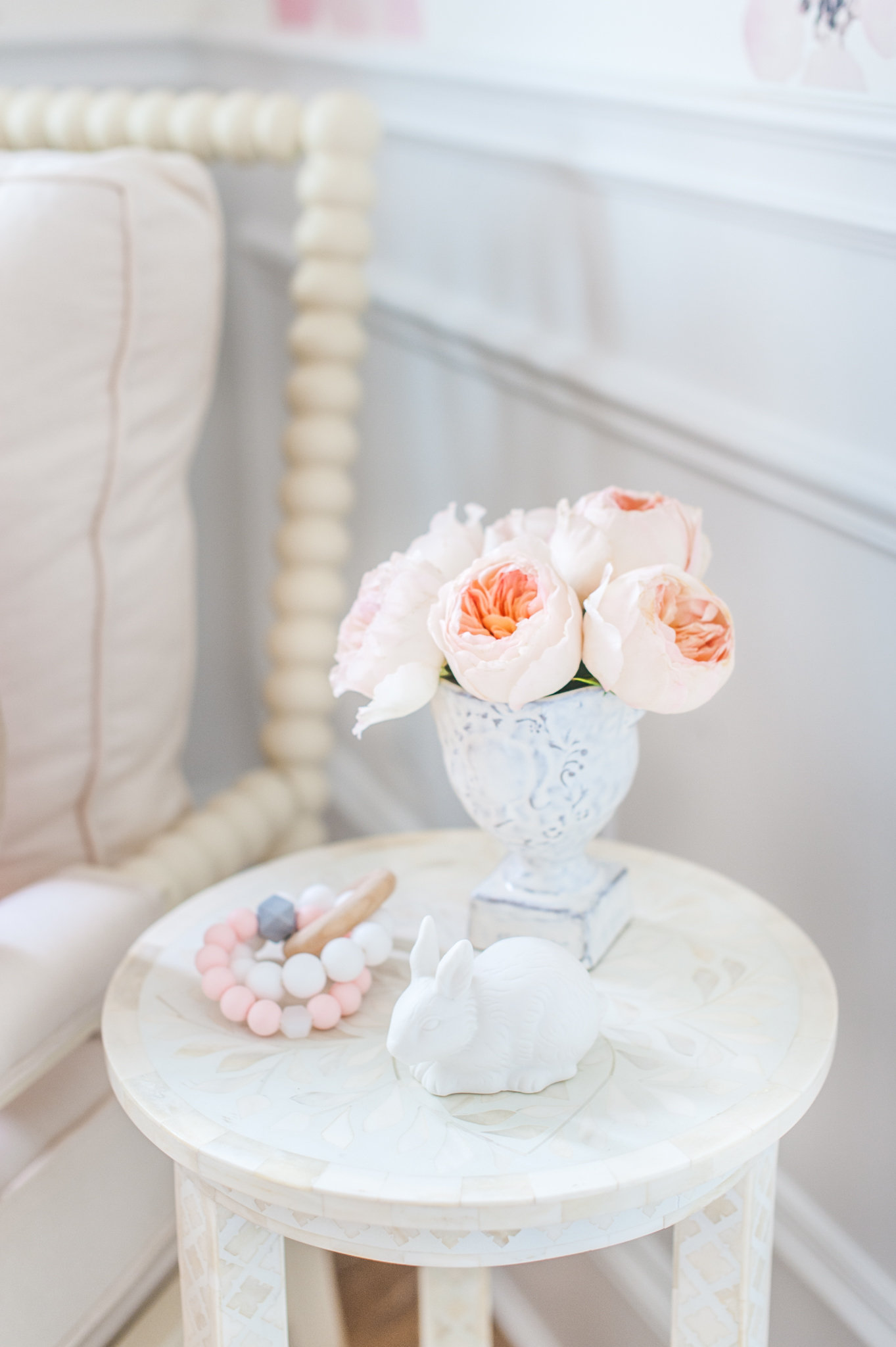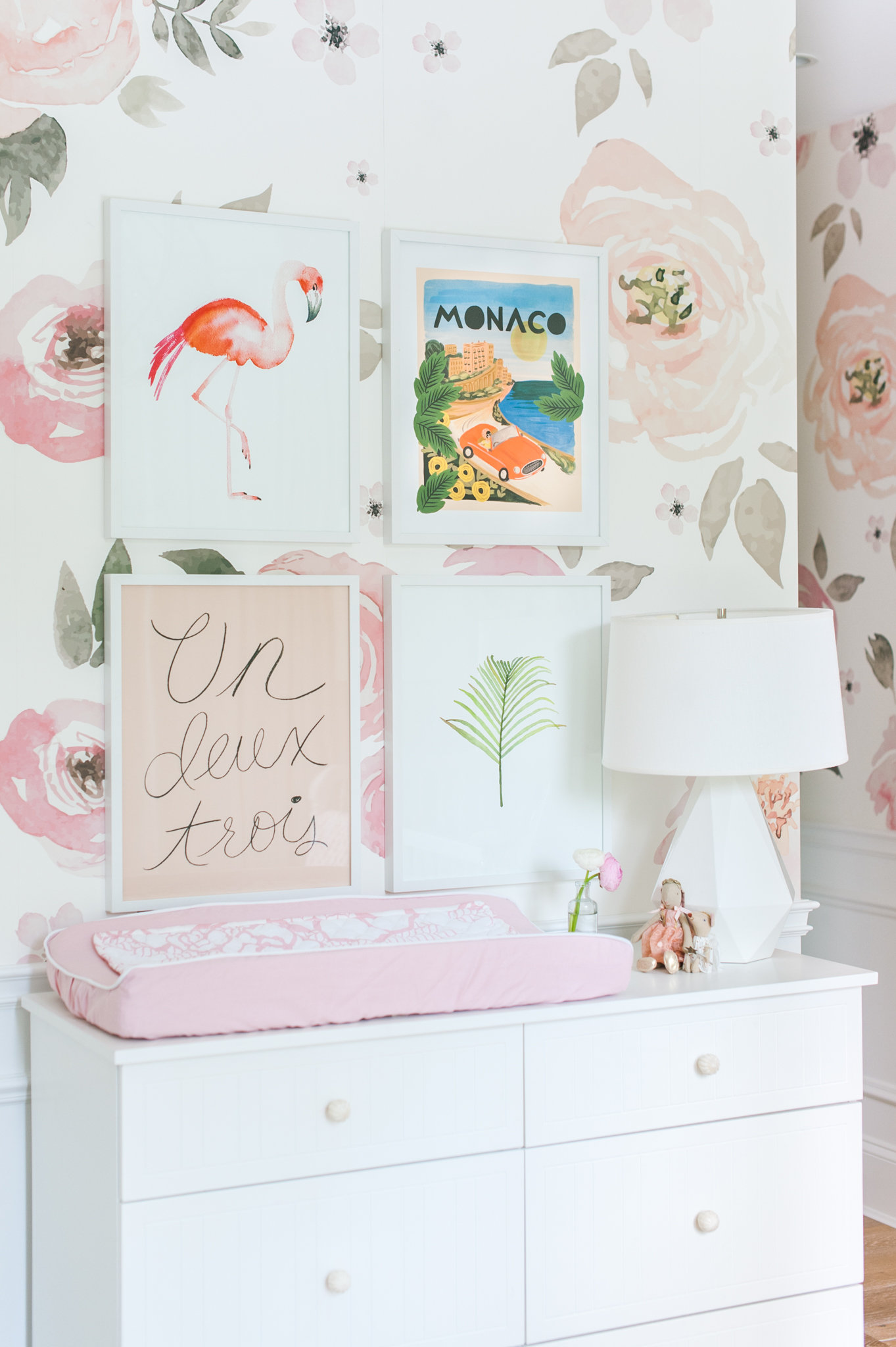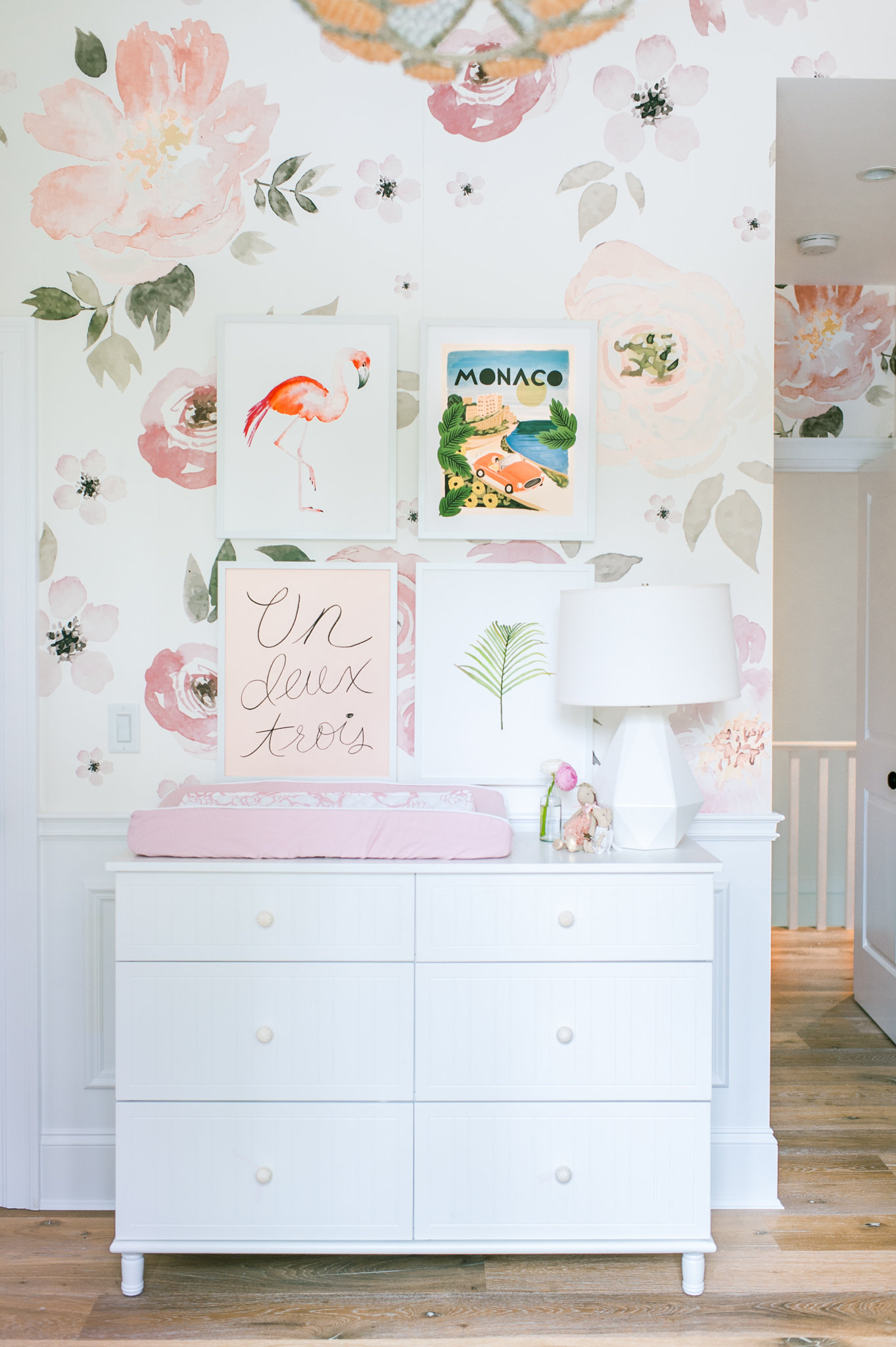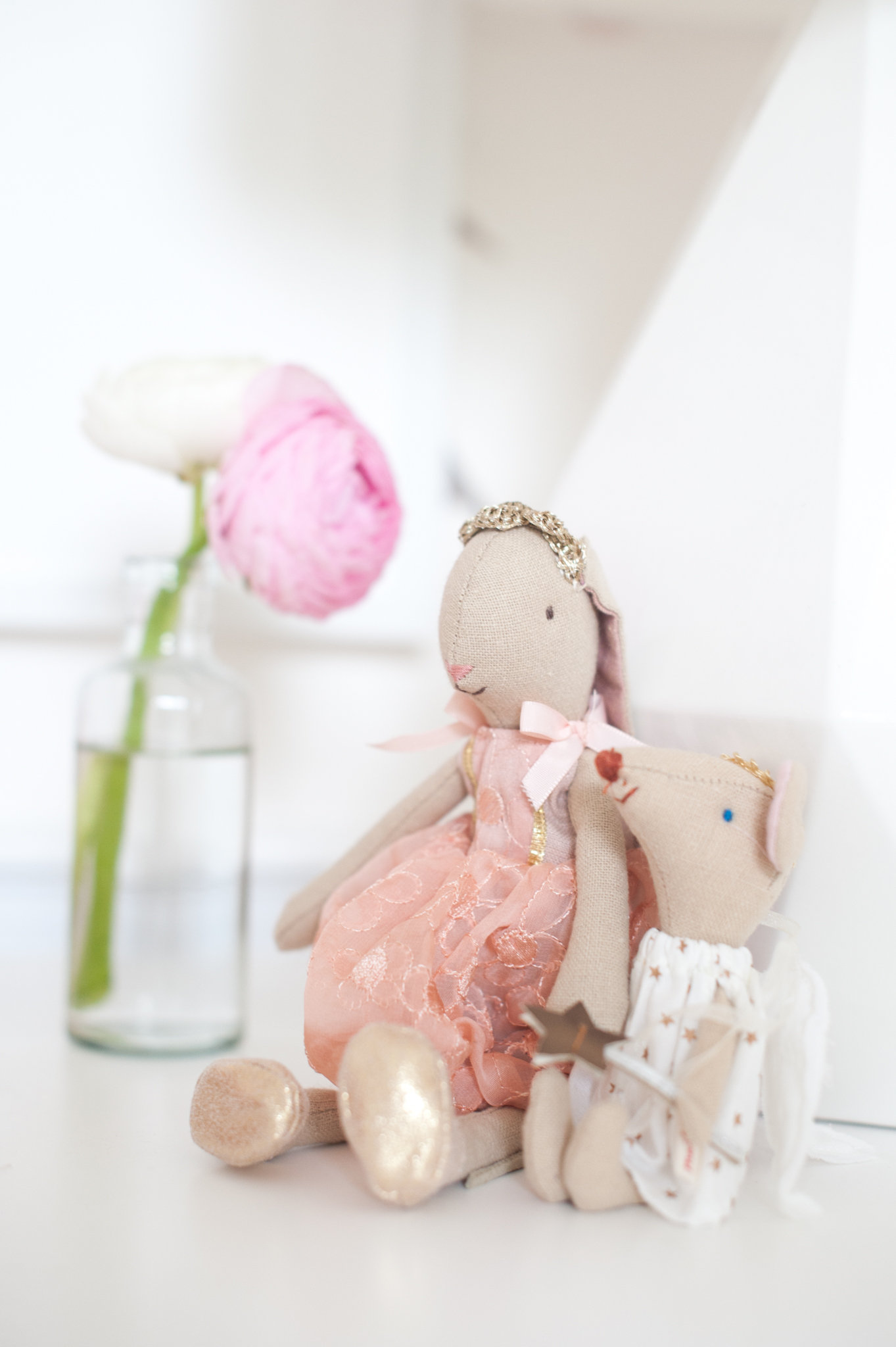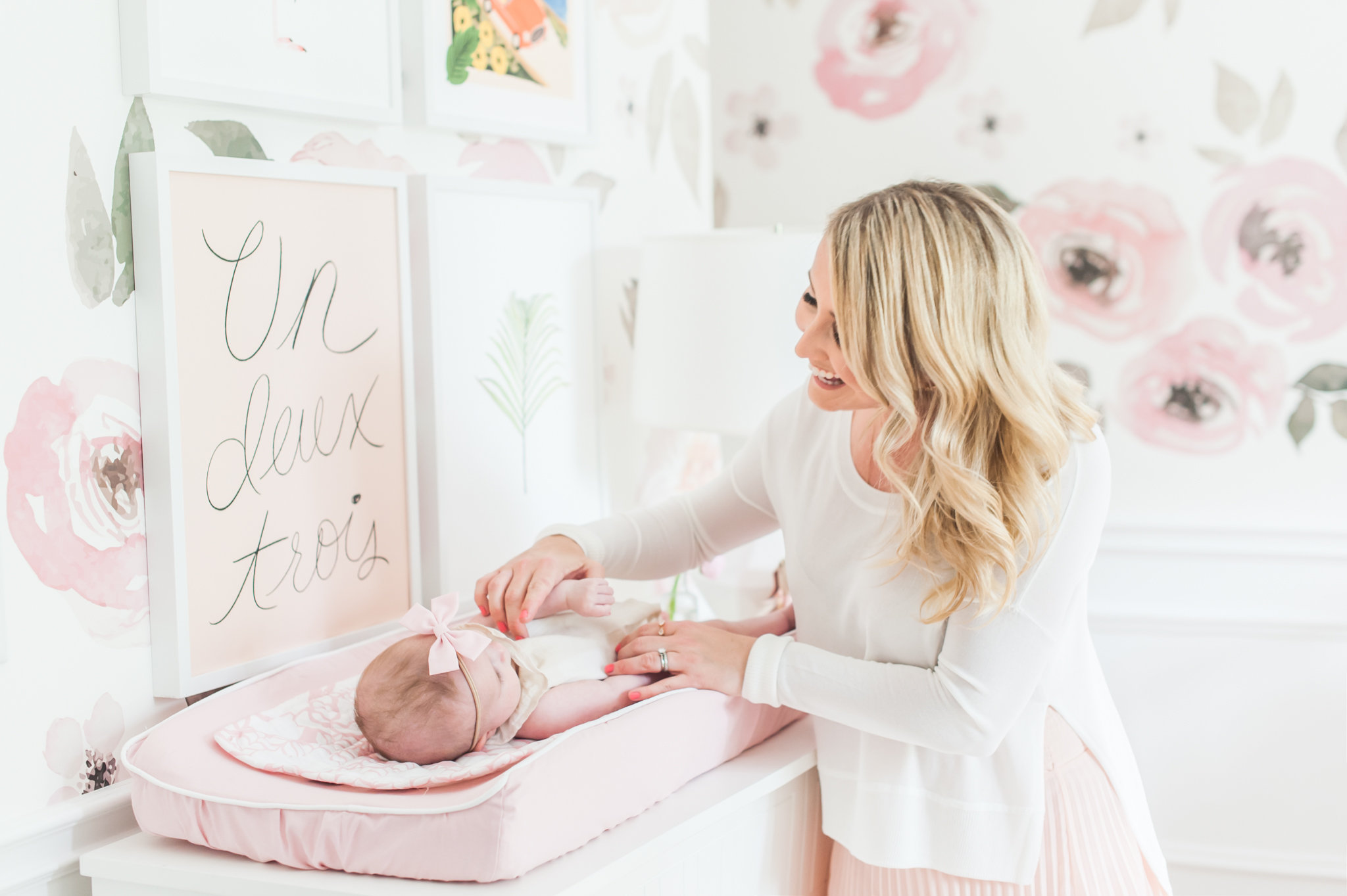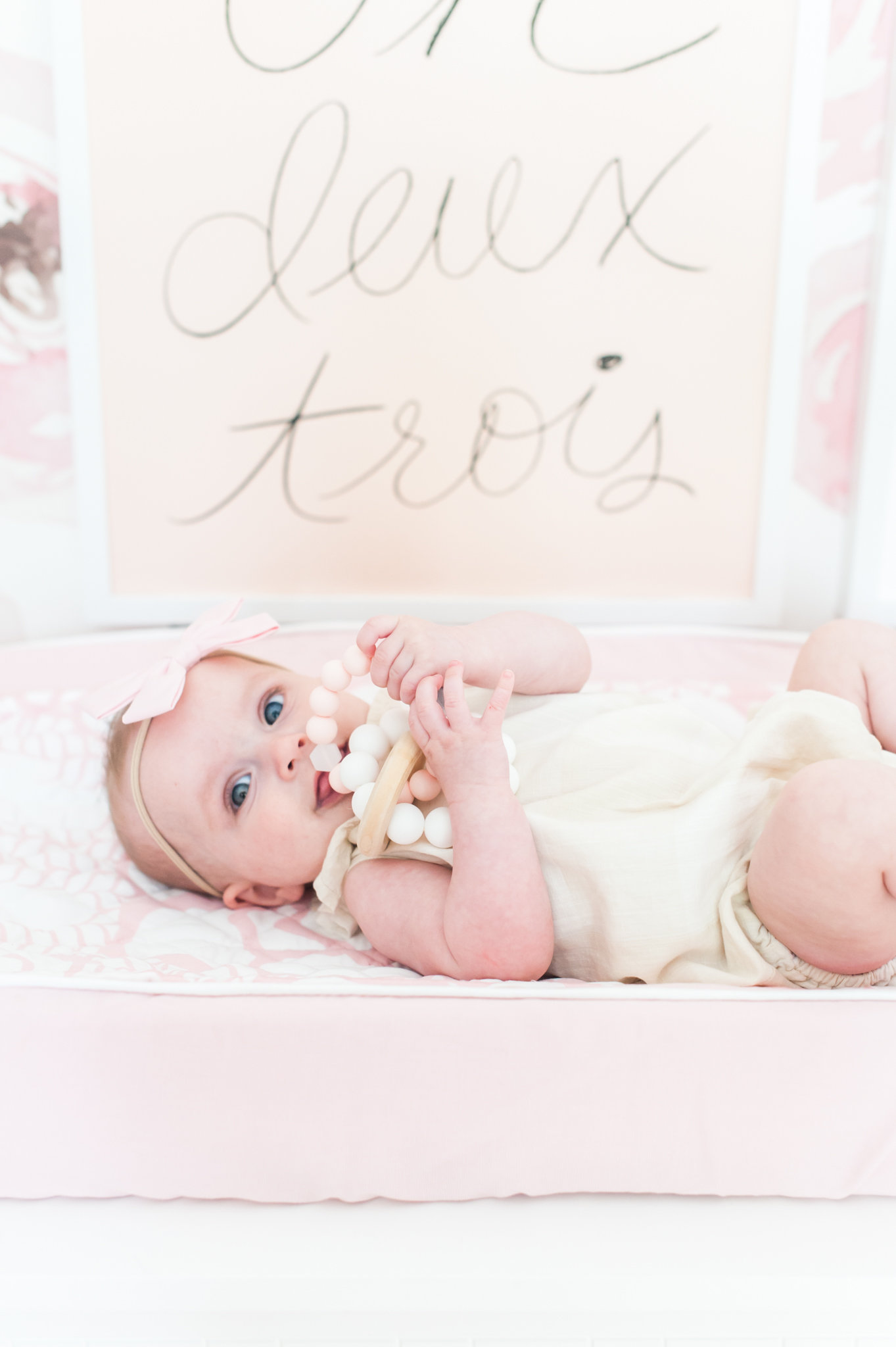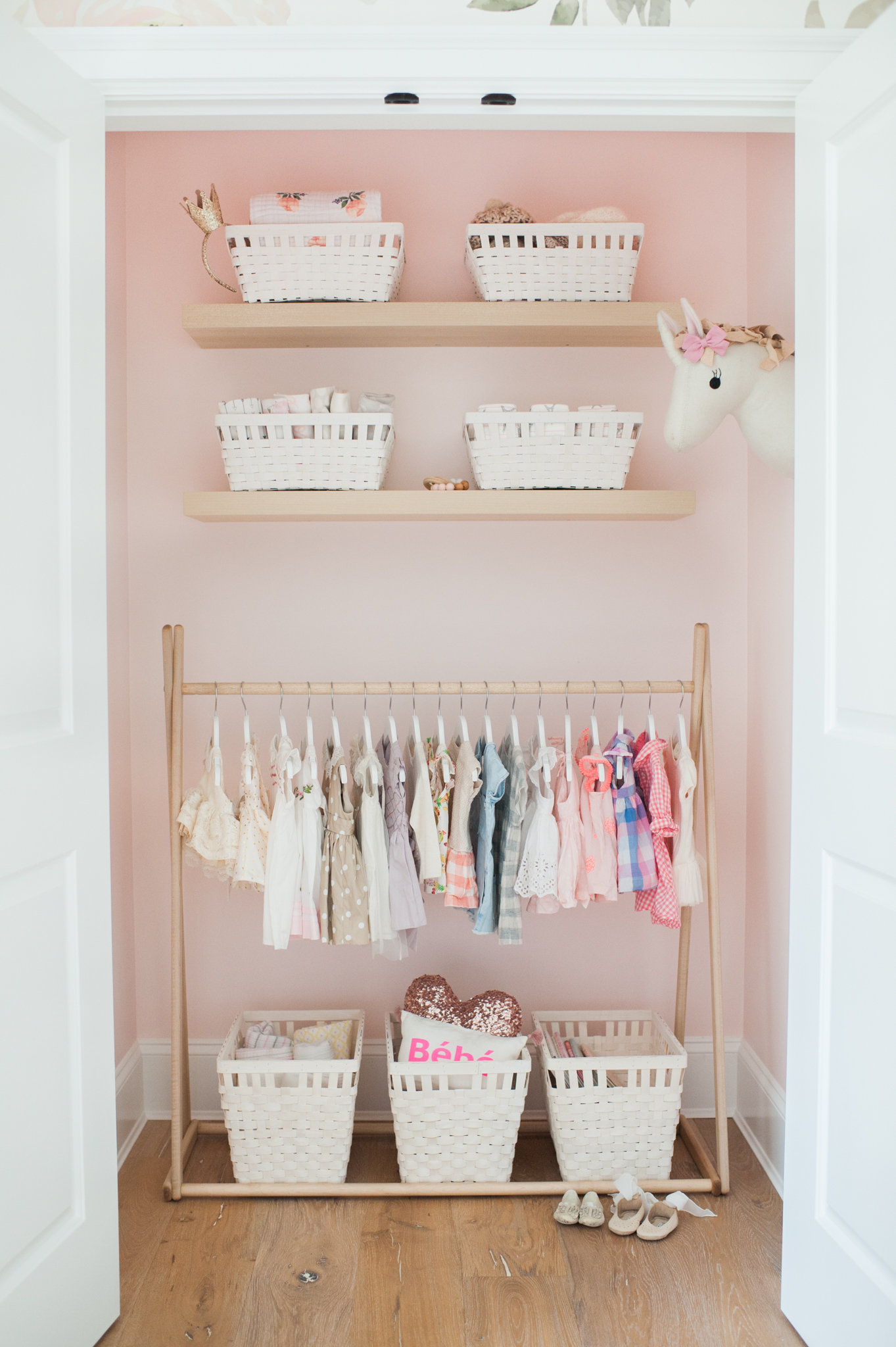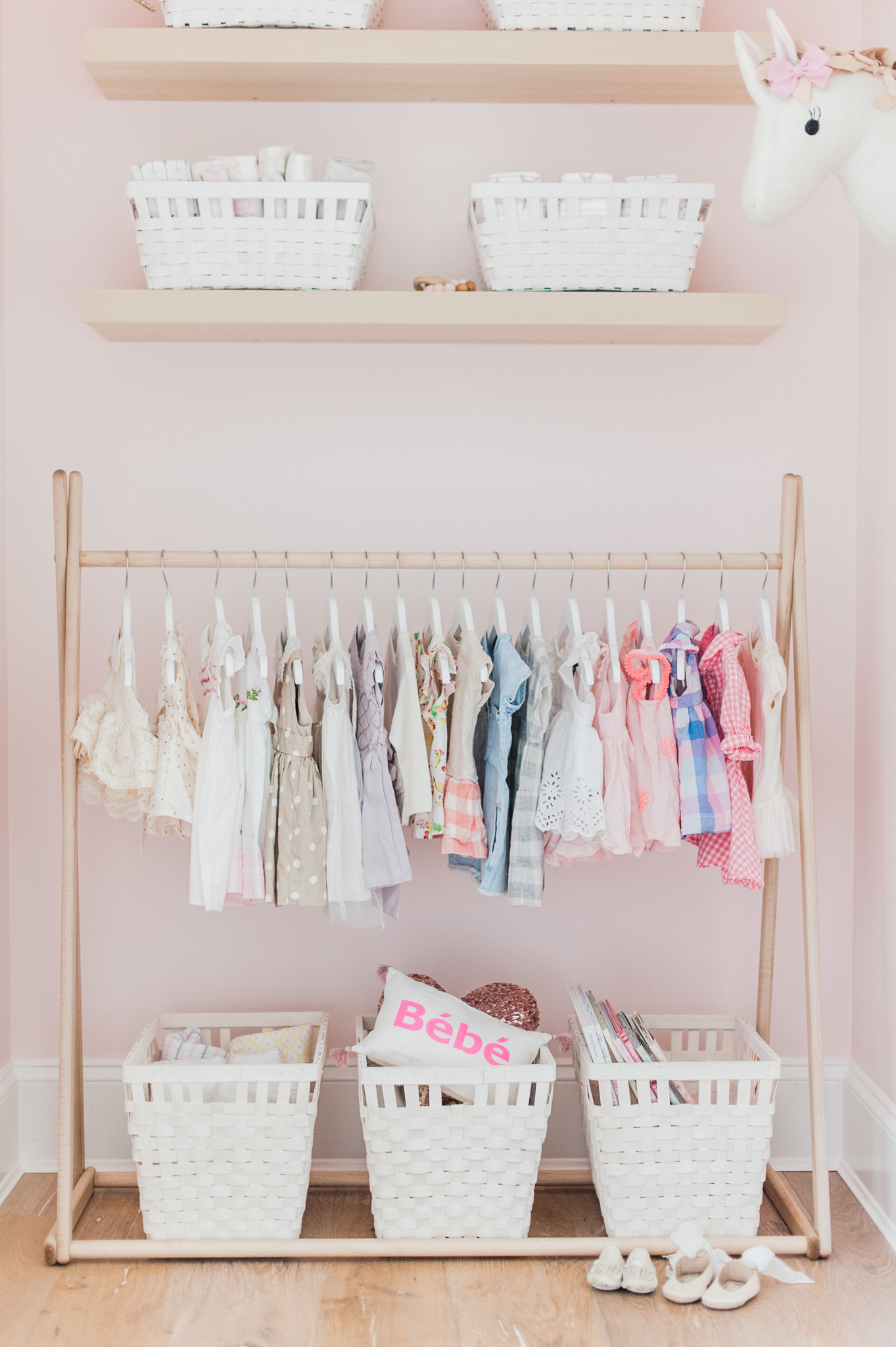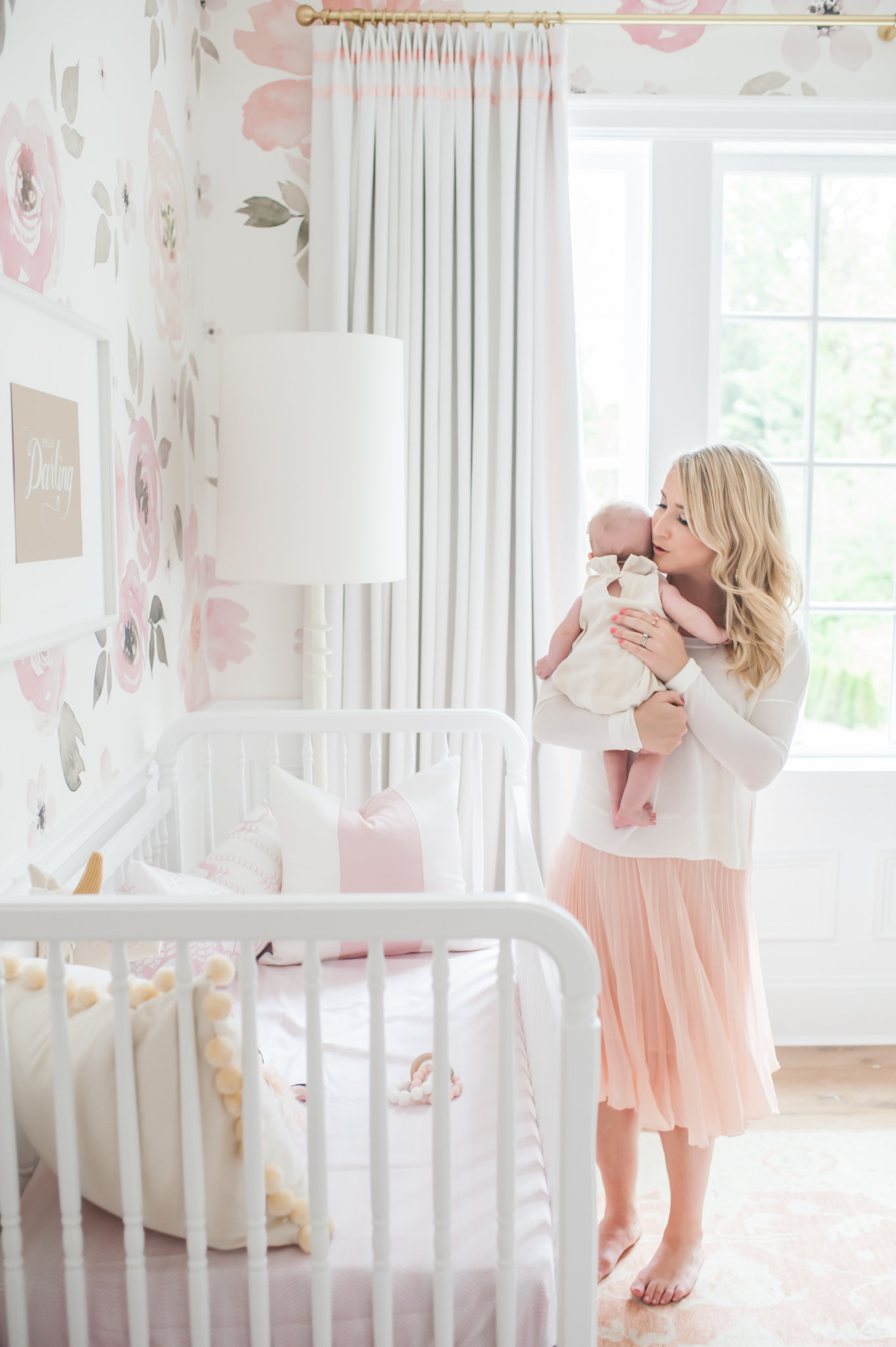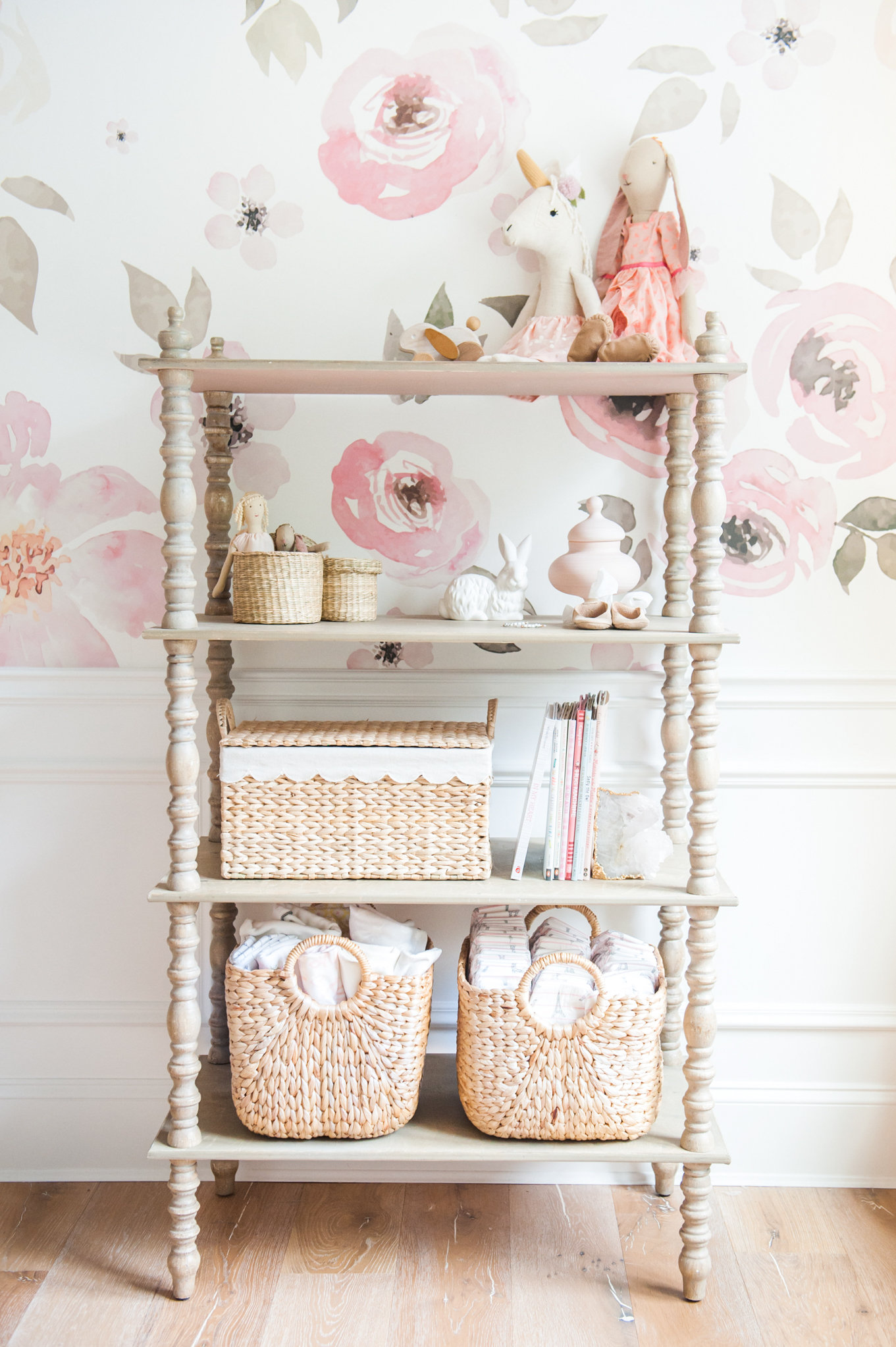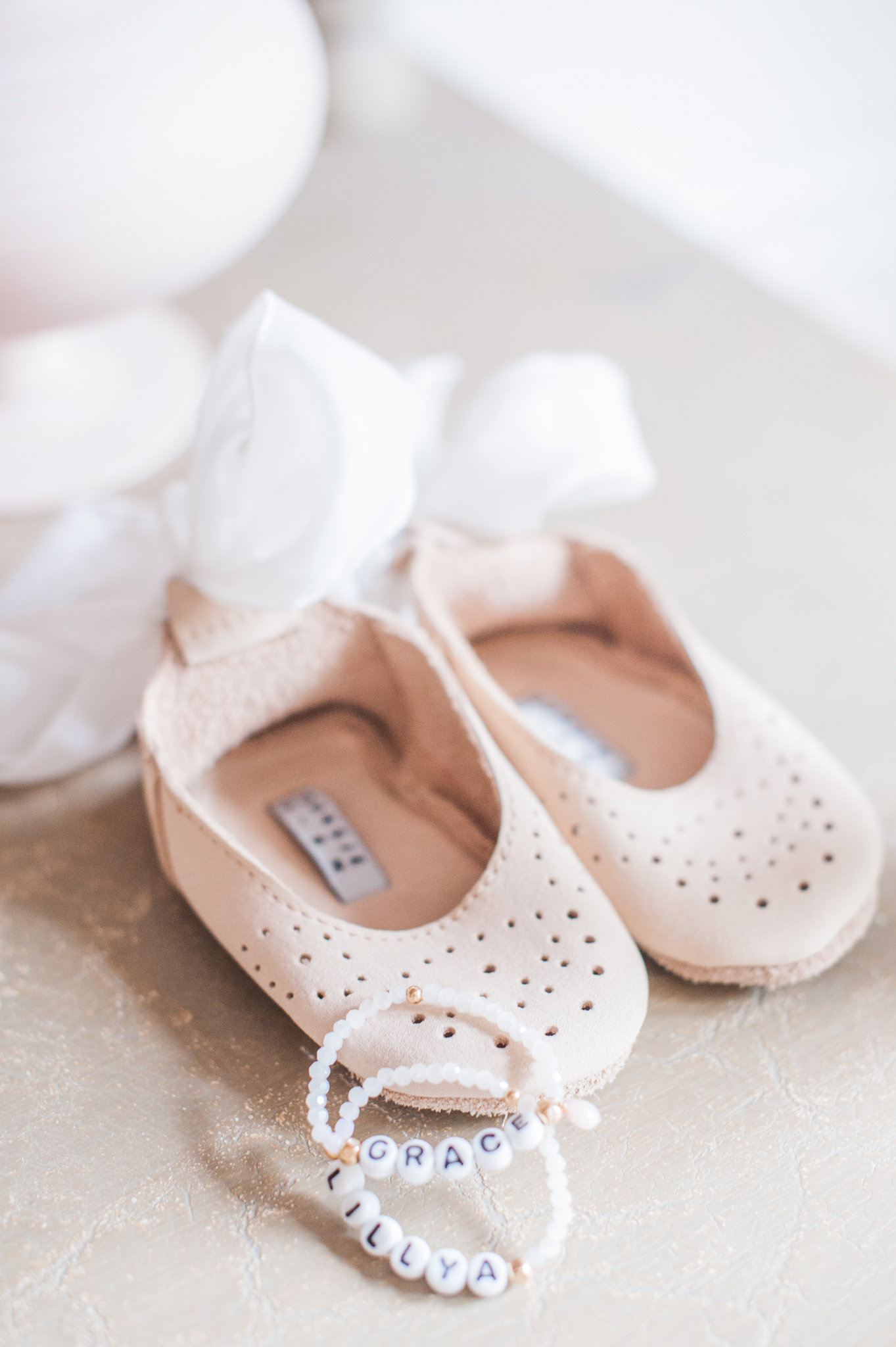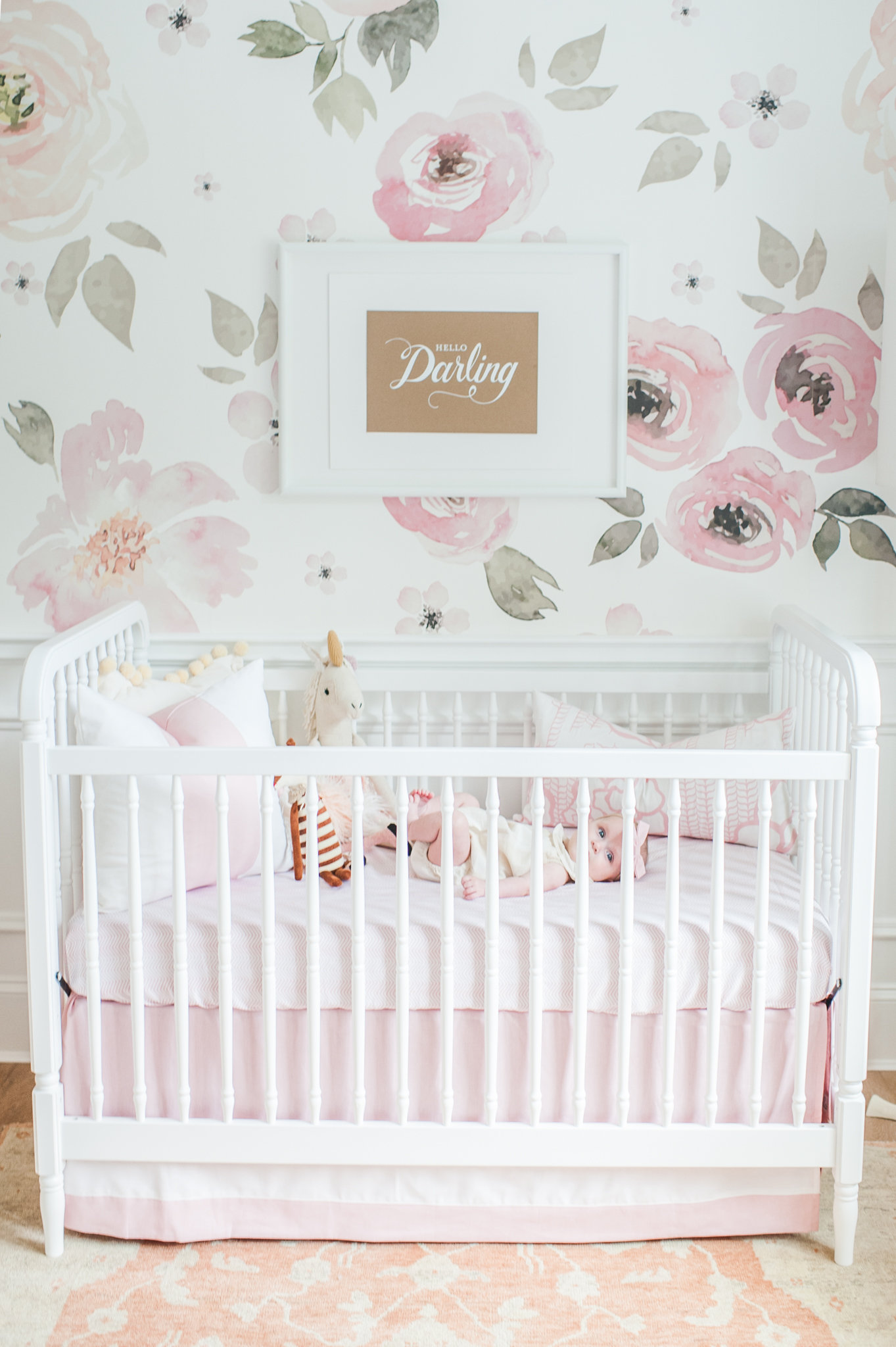 I'm so so so excited to finally share Lillya's nursery on my blog today! You might have already seen some shots over on Glitter Guide last week along with a fun interview, too. It feels like I've been dreaming up Lillya's nursery forever. I fell in love with a few items right from the start that became the staples for the room.
Then, piece by piece, I brought it all together creating a girly pink, relaxed and comfortable space. I worked alongside Oilo Studio on this nursery. They helped me bring everything to life! We used their beautiful iconic nursery bedding to pull the room together. I chose pink and peach tones as they're my favourite combination and remind me of my favourite flower, the Juliet Rose, which I, of course, had to add in the decor too! Fresh flowers always bring joy to a room. Why not add them to a cozy reading nook?
The wallpaper was a labour of LOVE! I love adding wallpaper to a room so I knew that I wanted to do something really creative! The thought of oversized muted watercolour florals was a bit overwhelming at first, but they turned out even better than I imagined!! As dramatic as it might look, they don't overwhelm you when in the room.  I love how it plays off the muted rug and all the soft pinks and peach hues in the room.
One of my favourite parts of Lillya's nursery is the reading nook! Not only do I adore a comfortable corner to cuddle with her, I love the idea of her growing into this space. From cuddling and feeding to reading bedtime stories, we'll create so many sweet memories in this space. I can hardly wait to see her reach up for a book and ask me to read it to her.
I decided to include a classic spool chair and pair it with a white Moroccan pouffe for that extra bit of comfort. I love how elegant it looks adjacent to the custom blackout drapery. Sophisticated and sweet, perfect for a baby's nursery.  I'll be keeping this little corner as-is when we transition to a big girl's room! Hopefully not too fast… time slow down!
Today, I'm sharing a few of my favourite photos showing you as much detail as I can. Not only that but I'm giving you the chance to win your very own nursery with the exact pieces that you see in Lillya's nursery!  All the items listed in the nursery (valued at over $4,000) will be won by one lucky momma! It's super easy to enter: Just make sure to follow the instructions on the entry form at the very bottom of this post!The winner will be chosen at the end of the week! Good luck!! (Giveaway closed!)
Big thank you to Annalisa and Michelle from Oilo Studio and everyone involved making this space as gorgeous as the photos show! xo
I've listed all sources below, if I'm missing anything, please don't hesitate to comment and ask! 
Photography: Blush Wedding Studio
Hair & Makeup:  Eva Terez Beauty
-NURSERY SOURCES- 
Bedding: Oilo
Crib: Franklin & Ben 
Bookcase: Joss & Main
Rug: Joss & Main
Chair: Joss & Main
Side Table: Joss & Main
Dresser: Joss & Main
Floral Wallpaper: Anewall
Custom Blackout Drapes: Q Design Centre
Clothes Rack: Such Great Heights
Kids Wooden Hangers: Amazon
Flamingo & Palm Print: Minted 
Monaco & Un De Troix Print: The Cross Design
Ride on Unicorn: Land of Nod
Bunny Nightlight: Land of Nod
Buffalo Check Pillow: Studio McGee
Rose Blanket: Little Unicorn
Swaddle & Babby Wrap: Solly Baby
Pom Pom Basket: Folk Fortune
Unicorn Head: Target
Beaded Chandelier: Ro Sham Beaux 
Table Lamp: The Cross Design
Floor Lamp: The Cross Design
Flower Vase: The Cross Design
Pouf: The Cross Design
"Hello Darling" Print: The Cross Design
Sleepy Bami: The Cross Design
Princess Large Bunny: The Cross Design
Unicorn Doll: Dainty Cheeks
Teething Rings: Lou Lou Lollipop
Flowers: Floralista
Pink Closet Paint: "My Sweetheart" by Behr Paint
Wainscotting Paint Color: Behr Paint via Home Depot 
Baby Bracelets & Jewellery: Leah Alexandra 
Books:  Just Being Audrey, Flora The Flamingo, Peddles, Julia Child, Miss Lina's Ballerina's, Paris