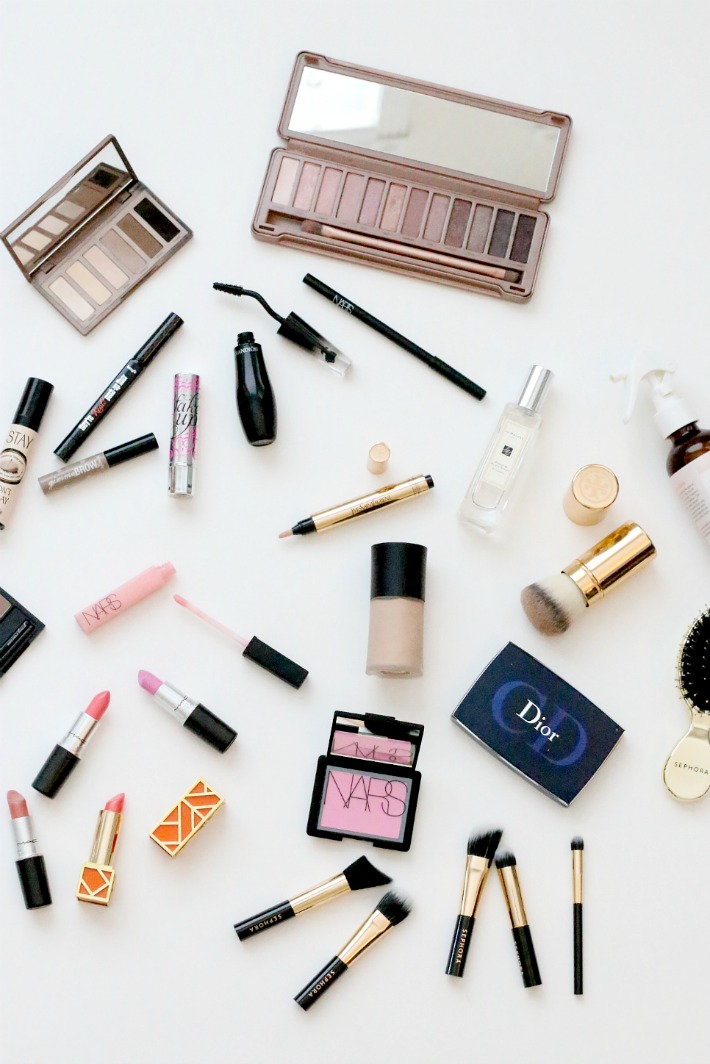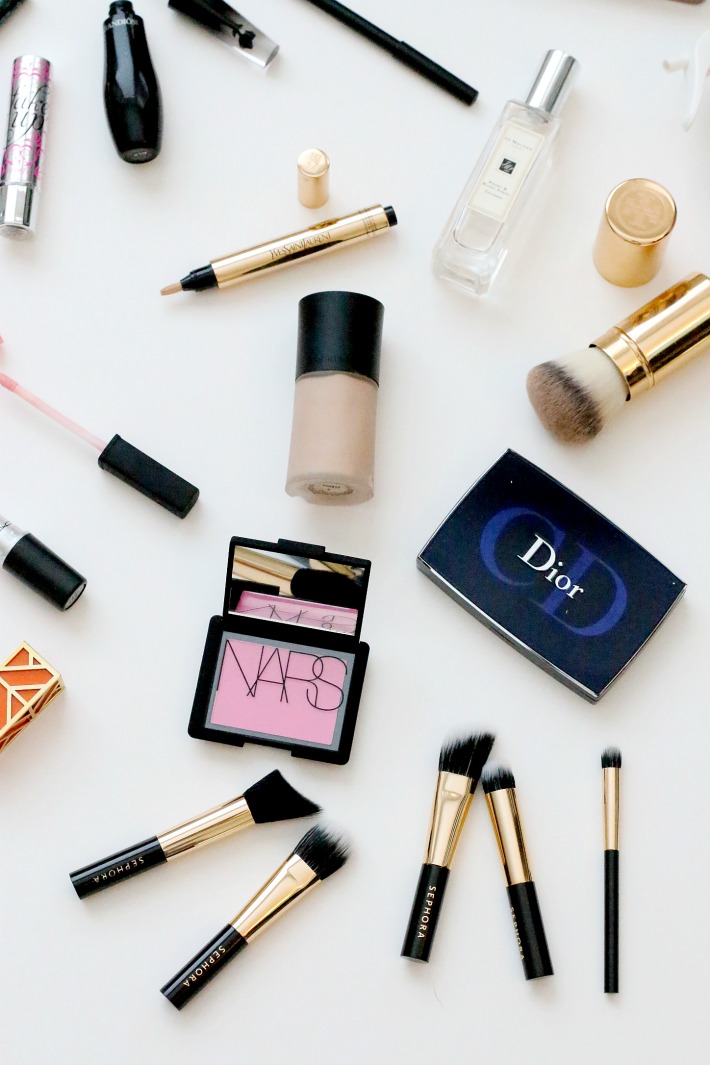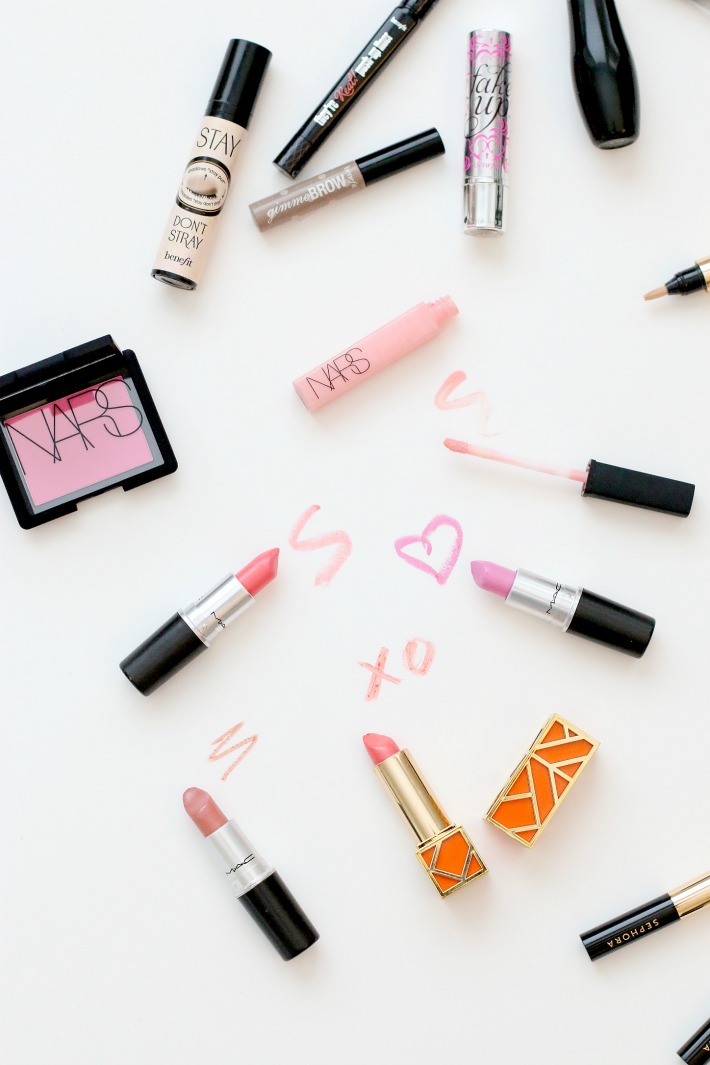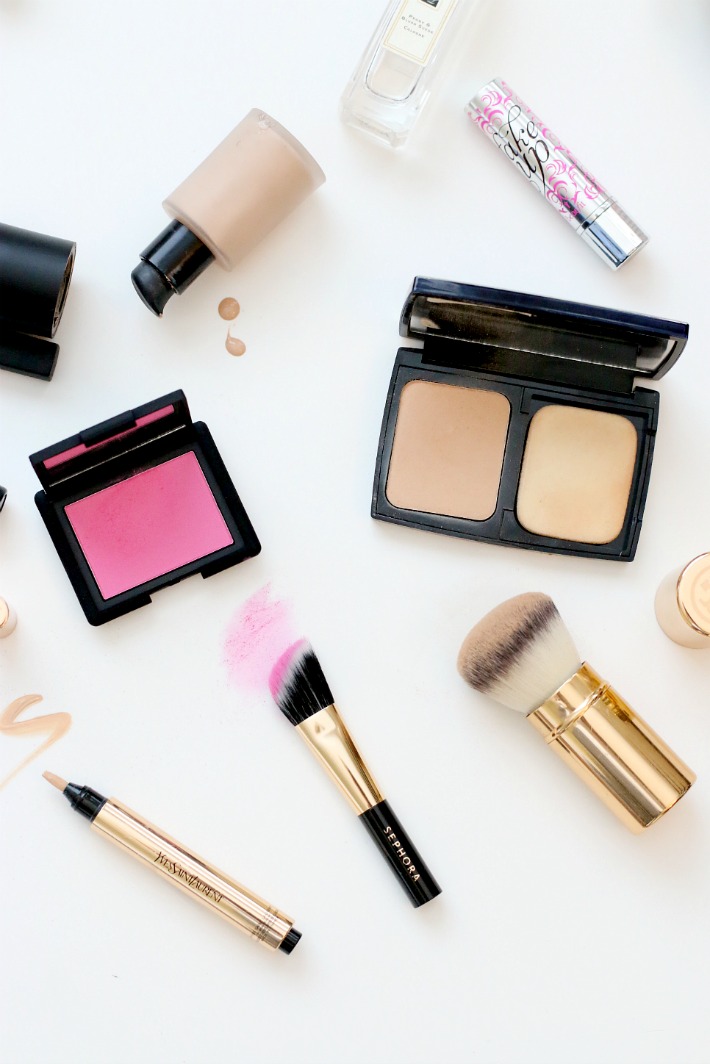 Urban Decay Naked 3 Palate | Urban Decay Naked Basics | Brow Shaping Kit | Gimme Brow |  Sat Don't Stray Eye Primer | Push up Eyeliner | NARS long wear Eye Pencil Eyeliner | Mascara | Silk Foundation | Dior Pressed Powder | Blush: Desire | YSL Under eye radian touch | Fake up Concealer | NARS: Turkish Delight Gloss | Tory Burch Lipstick: Pretty Baby | Mac Lipstick: Shy Girl, Saint Germain, Flamingo | Mini Brushes | Gold Travel Hair Boar Brush | Gold Face Brush | One Love Organics body serum | Jo Malone Perfume: Peony & Blush Suede |
So many of you have been asking for me to update my "favourite beauty products" post! Since I've switched some things out, I thought it was time to update my favourites.
I won't talk about every singe product, I'll just touch on my favourites and some new finds! First things first, FACE! I don't always wear a full face of makeup but I do like my foundation, powder, blush, bronzer, mascara combo. And I just realized I never posted my bronzer— so here it is NARS Laguna, everyone's go to I'm sure! It's my forever favourite simply because it has amazing pigment and no sparkle, glitter, shimmer. I like a matte bronzer that's easy to blend. For blush I used to use Orgasm by NARS, but because of the additional glitter flakes I wanted something a but more matte, so I've switched over to Desire by NARS– it's very pigmented and has amazing blending qualities to it… and very pink!
My favourite foundation/ powder combo is Armani & Dior. Together they make your skin feel flawless and velvety smooth, also looks great in photos. I've heard such great things about these two, so I finally made the splurge of a purchase and won't look back- they are perfect!
Eyes. Oh eyes are so important right? I was a MAC girl at heart and only used their eyeshadows, but since trying the Urban Decay Palates, I've found them so convenient! No loose eyeshadows, none popping out of the magnetic pallet.  Not to mention, I've fallen in love with the shades of the shadows. For a more subtle every day look, I love using the Basics Pallet. Great nude matte shades, perfect for a natural look and contouring the eye. Mascara: my new favourite for top AND bottom lashed and all angels is the new Grandiose mascara by Lancome. It takes a bit to get used to, (because of it's funky brush), but once you get the hang of it it's amazing. No smudges, thick volume and great lash separation. My little lash secret is also lash extensions, fully in love and fully addicted (when I have the time to get them applied). If you are in the Vancouver area you must visit Suzanna Chun Beauty, she does an amazing job applying thick full sets yet making them feel weightless!  (@suzchunbeauty on IG)
Okay, well I won't talk too much more about every single product. I've linked everything above, if you have any questions please feel free to leave a comment and I'll make sure to respond! [thefeedproducts style='four']
-SHOP MY MAKEUP-