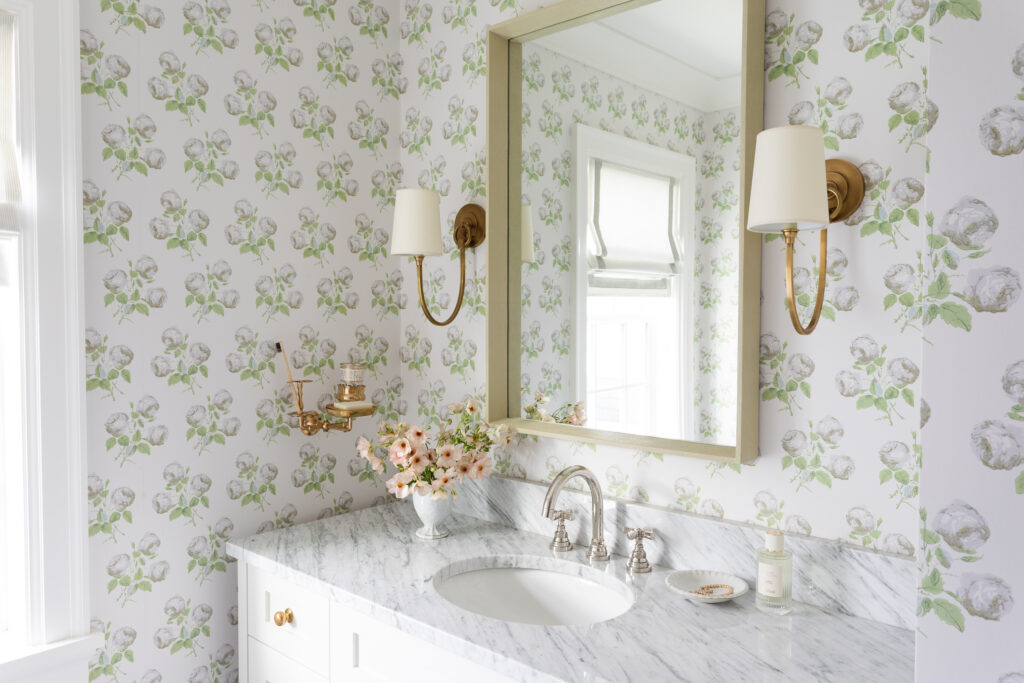 This bathroom is one to love, and it belongs to my mama! We had such a fun time dreaming up this bathroom, and it didn't take much to convince my mom to say "yes" to all the fun elements, from the matching wallpaper and custom shower curtain to a charming tile floor. Although my mom's bathroom serves as both her personal bathroom and guest bathroom, I wanted to play off the fun and character-driven design found in powder rooms with all the functional and beautiful design elements she wanted. I'm thankful my mom was open to the idea of trusting the process, which allowed Stephanie and I to go-to-town with this beautiful and unique personal space my mom loves.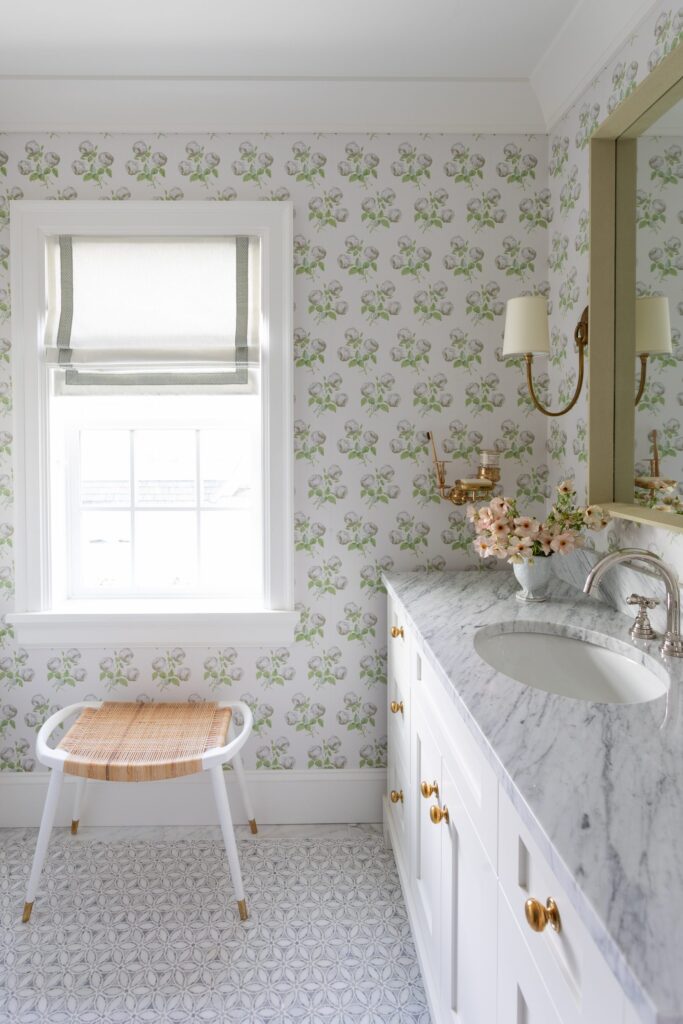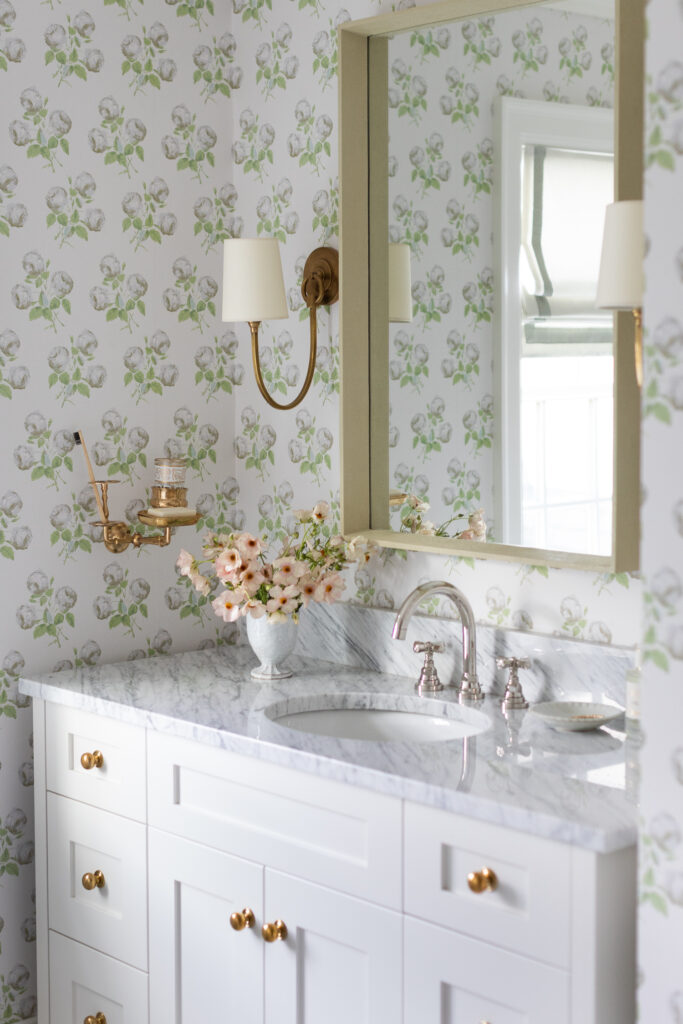 The fairly large shower is the first feature you see when you walk in. The marble tile lining the shower was too beautiful to hide behind typical glass, so we designed a custom shower curtain that matches the wallpaper. Beautiful right?! When the curtain is open, you get the beauty of the marble tiles and polished nickel Rohl plumbing hardware. The custom shower rod and rings, (also in polished nickel), was the perfect finishing touch. While shower rods are often an afterthought when designing a bathroom, the addition of the matching polished nickel rod and rings, really elevates the overall look.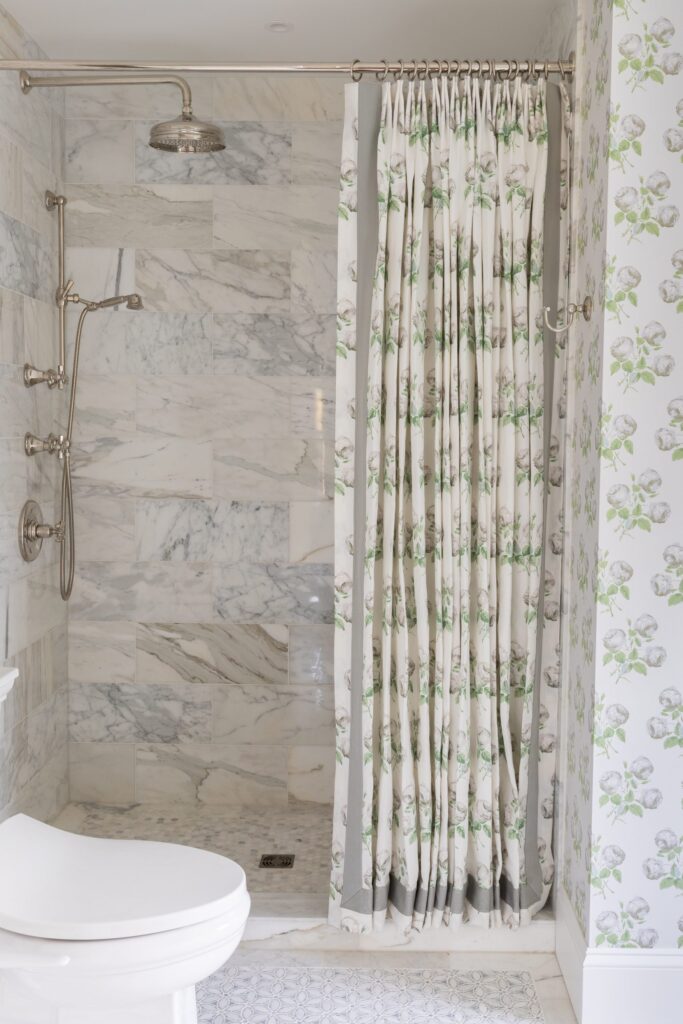 I don't mean to repeat myself, but the wow factor is definitely the matching shower curtain and wallpaper. This is a more traditional design practice, but the stunning Bowood wallpaper is suited perfectly with vintage-inspired rose motifs. We added a dusty blue banding around the shower curtain for added definition and interest. It looks seamless but denotes the difference in space.
For the vanity, we designed a free standing furniture like concept, with drawers adorning each side for a good amount of storage space. Incorporating mixed metals, with the hardware of the bun knobs, and sconces in brass, contrasting nicely with the polished nickel of her shower and sink faucet hardware. We love mixing metals!
Since the bathroom features a big window for letting in natural light, we added a roman blind for privacy in a complementary fabric that wouldn't take away from the wallpaper. The blind has a subtle stripe and finished ribbon banding.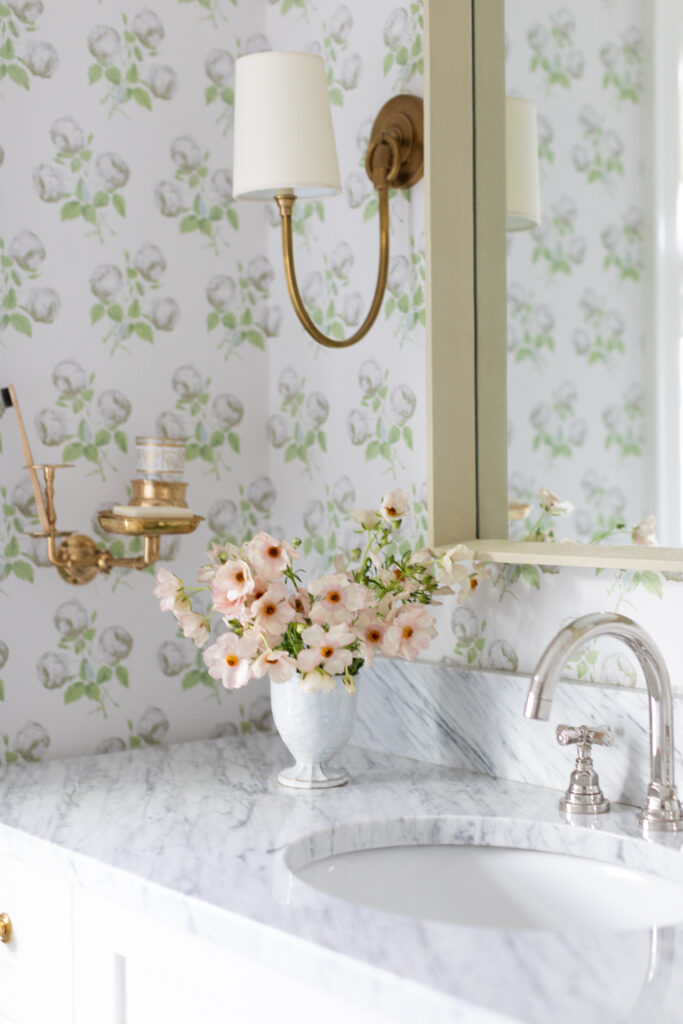 The floor tile is another fun feature. The beautiful mosaic marble floral pattern works well with the feel of the room. We created a simple border around the perimeter with a solid marble tile, grounding the two floral designs of the walls and floor.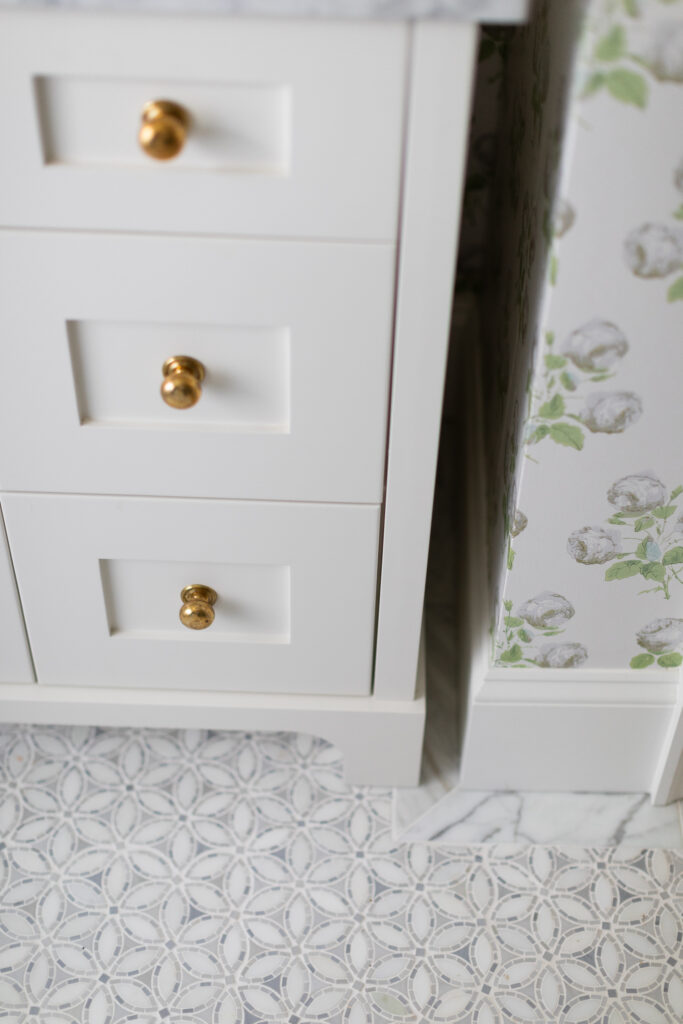 This was definitely a space that I crossed my fingers and hoped ended up as well as we planned. It ended up being better than I could have imagined. My mom absolutely adores it, and it's a lovely balance of feminine, whimsical, and function. Every time I visit, it brightens my mood and day!
Photography: MH
Bathroom Interior Design: MH + Stephanie Jean Design
SOURCES
Tile Floor Mosiac: The Tile Shop
Tile Floor Border 4×12: The Tile Shop
Shower Wall Tile 8×20: The Tile Shop
Shower Floor Hex: The Tile Shop
Faucet/Shower Plumbing Hardware: Rohl
Shower Rod: Palmer Industries
Shower Curtain Rings: Monika Hibbs Home
Vanity Cabinet: Old World Kitchens & Cabinets
Marble: Black Pearl Granite Inc.
Towel Rack/ Door Knob: Emtek
Sink/Toilet: Kohler
Roman Blind/Shower Curtain: Window Works
Wallpaper: Monika Hibbs Home
Mirror: Monika Hibbs Home
Vanity Hardware: Monika Hibbs Home
Light Sconces: Monika Hibbs Home
Stool: Monika Hibbs Home
Ceramic Vase: Monika Hibbs Home
Ceramic Dish: Monika Hibbs Home