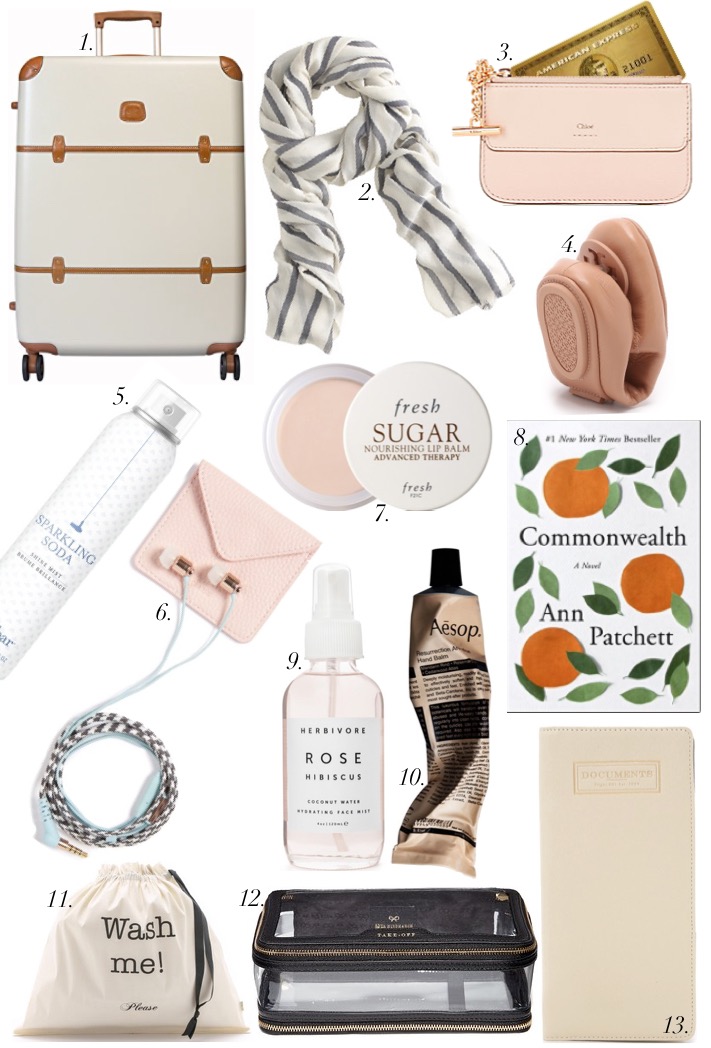 | 1 | 2 | 3 | 4 | 5 | 6 | 7 | 8 | 9 | 10 | 11 | 12 | 13 |
Travelling (especially with two young kids) can be stressful, but if you have the right supplies it can make all the difference and your holiday can be a breeze!  I've made a list of all of my travel must-haves! These are the perfect travel hacks that make packing, travelling and enjoying a great vacation possible!
I love to have a nice scarf when travelling, not only because it can be so quick and chic, but especially great when you're on the plane and gets uncomfortably cold. Another must have are these headphones, and how cute is that little envelope pouch for them?
A good book is a must when travelling. I'm so excited to start the one above, 'Commonwealth'!
Shoes that fold are an amazing space saver and are so easy to throw in your carry on.
I always pack hand lotion and chap stick to protect from all that dry air on the plane.  I also take face mists so I don't have to feel so dry when I get off the plane.  I love this rose hibiscus one, it's so refreshing!  And you can't forget about the hair!  This sparkling soda mist is another great refresher!
Successful travelling is all about organization!  That's why I love this passport cover and document holder to keep everything in one place. Another must have is for sure a dirty laundry bag, and how cute is this Wash me one!  It's great to keep all your dirty laundry in one place away from the rest of your clothes.  It's also good to have a travel case for your make up to keep it all together in one place.
You'll also need something super chic to pack it all in!  I also love a sturdy carry on which makes travelling easy and stylish at the same time.
Interested in more travel hacks from packing to snacking? I recently partnered with American Express Canada to showcase my travel style when it comes to family travel. Take a peek below at the video for more ways to up your travel came with the kids. Video Here .
My last travel tip is great if you're always on-the-go and if you're looking to earn points on everyday purchases. I recommend applying for a Card that comes with travel benefits like the Amex Gold Rewards Card.  All of those small purchases I tend to make during the week, from grocery trips to gas station fill ups can earn me two reward points from every dollar spent, which then of course can be redeemed for travel.
I hope these travel hacks will help you have a great, care free vacation. You can put your travel hacks to use on your next trip with American Express, using the right travel Card to get there!
Happy Travelling!
Thank you Amex Canada for sponsoring this post.  All comments and opinions are my own.